WHAT!?
a giveaway?!
crazy, right!?
i know!!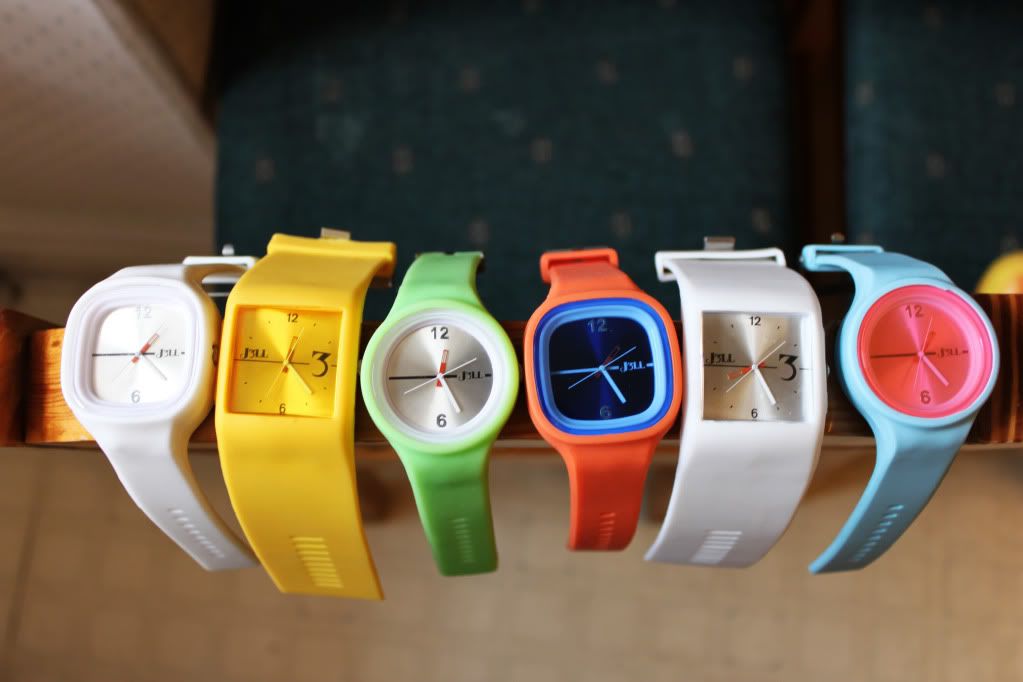 well now i get 2 give TWO watches to you readers for FREE!
watch why these watches rock:
i love that if you have two watches from
J3ll
(jell),
in reality you have four!
the faces interchange between the bands and are seriously so comfy.
it's like your options for watches multiply like rabbits before your eyes,
if you just said woah out loud, props to ya :)
without fail, every time i wear these watches i get complimets on it, always.
they're such a great accent to the outfit!
and they're bold without overdoing it.
i could have done about 10 different watch combos with this outfit with only 3 watches!
PLUS, casey and i actually share the watches.
they can adapt for his style and mine!
two birds with one stone,
i'm all over it.
so let's list the ways you can win 2 of these puppies yourself!
1. visit J3LL's website, come back here and leave a
comment
with which 2 colors/styles you love most.
2.
like J3LL on facebook
and tell me you've done this
3.
follow J3LL on twitter
and tell me you've done this
4.
google plus J3LL
and tell me you've done this!
which brings you to a grand total of FOUR entries per person!
#2-4 can all be done on J3LL's website
in one spot, once you hit the follow/like/+1'd buttons, coupons codes also come up for your order, facebook=free shipping, twitter=$2.50 , and googleplus=$2.50 off!
so you could potentially get
$5 off and free shipping.
valentine's is only a week away, hurry and order for your sweetie and benefit from the watches yourself!
feel free to share this giveaway with others!
let the giveawaying begin!
giveaway will end this Sunday, February 12 (in honor of Casey's birthday) at 11:59 MST
and the winner will be announced the next day!