this post is kinda old but should be documented nonetheless.
back at the beginning of march, casey and i decided to insanity.
(mostly it was me who wanted to do insanity and begged and pleaded casey to do it with me and then he came to like it/be glad he did it).
i was inspired by
this post
of a blog i read.
she too had a baby roughly the same age as mine which inspired me to say "yes, it IS possible!"
neither of us followed the diet plan because
a) neither of us have that kind of self control
b) i was too worried about losing my milk supply
we both probably could have gotten way better results if we had but we didn't care that much.
working out at home with a baby is DEFINITELY a challenge but DOABLE!
at first, we tried working out together in the afternoon right after i fed him so he'd be happy but he wasn't really that happy about it and it was always me who ended up not getting to do the full workout.
so then we tried doing it during his nap, but it was always a short nap which would cut the workout short which was frustrating too.
we finally decided to workout separately.
i'd do it in the morning during his first nap which was usually long at that time, if he did wake up early he was usually content with watching me for the last 5-15 min while still swaddled in his carseat/bouncer.
sometimes the last 5 minutes had to be skipped but nothing too bad.
after school casey would come home and do it by himself.
because we both decided to be dedicated for 2 months to working out, we were actually able to finish to the end!
insanity is pure cardio,
it's a beast, but then you realize how strong you've gotten since you started and it's not as bad.
i sweat so much more during these workouts than i ever have before.
casey sweat like a maniac during it, and that was super gross.
we were always so exhausted, but good exhausted, after the workouts which helped keep us going.
the first month is about a 40 min workout 6 days a week: TOTALLY DOABLE
don't get me wrong, it was still hard, but the really hard part of the workout was only 20ish min.
the 2nd month is about a 60 min workout 6 days a week: still doable but it kicks your butt and is so hard.
6 days a week going hard each day is
so tiring
.
the last 2 weeks were hard mentally because by that point, we DID want to be done with program, but weren't.
but we made it to the end!
hooray!
here's casey's before and after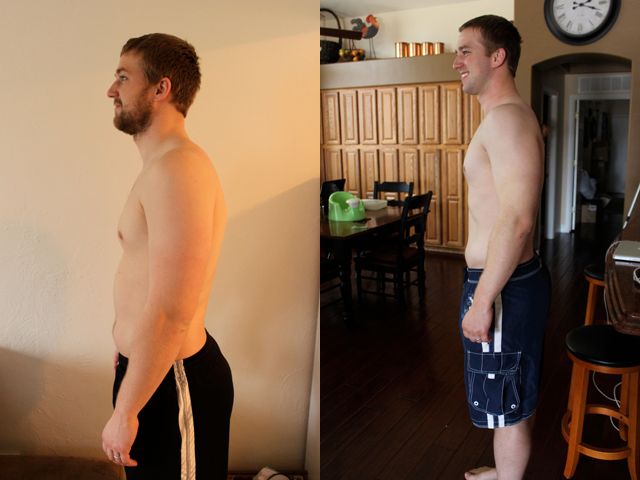 i would post my before and afters but you literally can't see a difference with all my clothes and i just look silly,
ha, so i'll just spare us all.
but i did slim down
a little
and tone up
a little
.
i'm so glad we did it!
i would definitely recommend doing trying out insanity post-baby to start back into working out.
reasons:
a. you can do it by yourself at home so you don't have to be self conscious of your strength level in front of others etc, though there's still an instructor pushing you
b. it's a smooth transition to working out your abs again since there's no crunches anywhere but you still get a good ab workout through other movements
c. you can workout around your baby's sleeping schedule and not have to worry about going anywhere.
d. there's like 10 different discs/routines so he workouts get switched up.
e. even if you're not post-baby, it's SUCH a good workout program!!
let me know if any of you decide to do this!!