so a small break from the past 3 weeks of our lives to share something we JUST did.
go me for posting about it so fast!
for the fourth of july we ventured over the the new jersey/new york border which means the hudson river to watch the macy's fireworks!
everything i read online said these were "the biggest in the nation"
we were excited to say the least!
casey worked a half day, came home, we got ourselves ready and went for the trek.
we didn't really want to deal with traffic this time so we spent a little more money and took in the train.
i got the terrible job of planning the whole excursion.
man that is stressful when you really don't know the area/where to go!
i finally decided for us to drive to the clifton train station and take the train into hoboken from there.
it was $20 roundtrip for the two of us but then we didn't have to deal with parking and traffic so it was well worth it.
we arrived in hoboken around 5:30.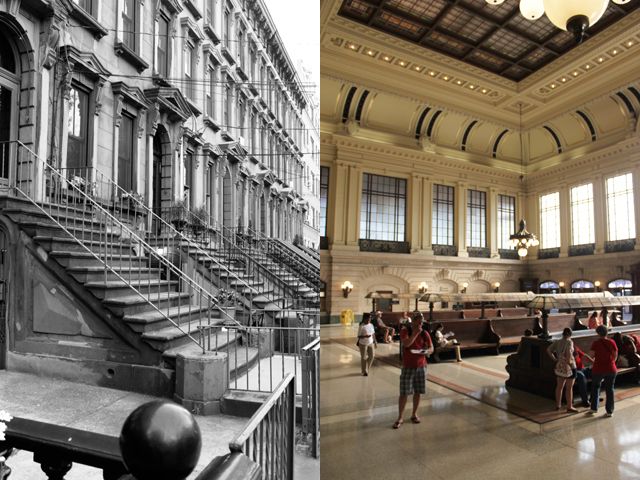 from there we began walking along the coastline up north where i thought it was supposed to be a better view.
we kept hopping forward to new spots.
we'd think we found a good enough spot, kelly would wait there to save it, and we'd walk a little further forward to see if there was something better.
finally, the 3rd spot was just perfect!
it was actually more perfect than we thought it was going to be!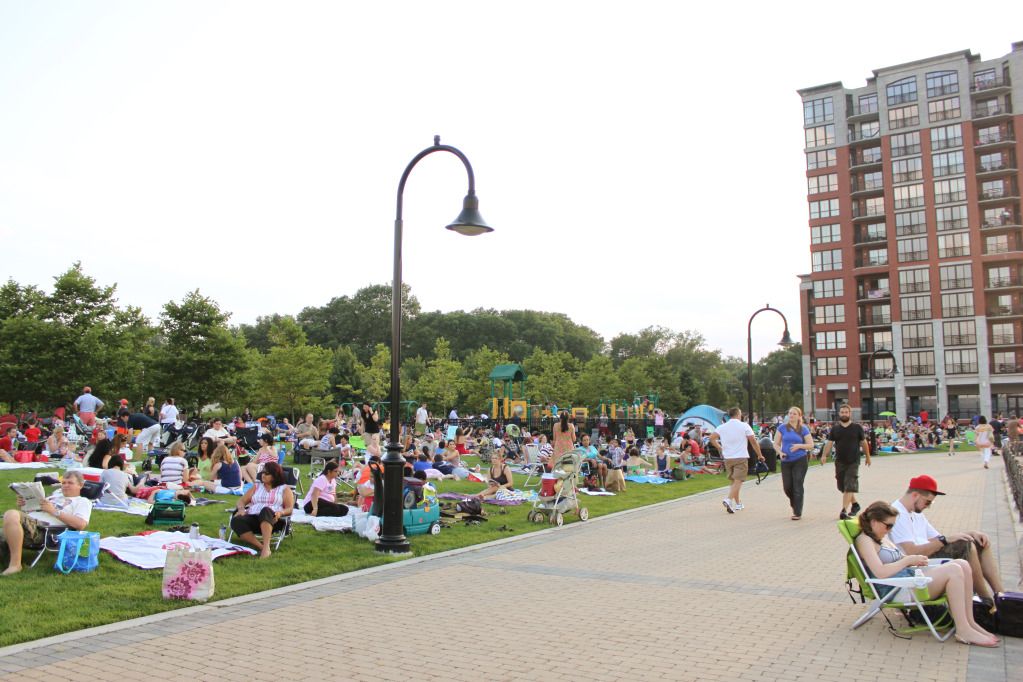 so we laid out in the sweltering hot grass for 3 hours waiting for "the best fireworks in the nation"
luckily, we did have a big building behind us that provided shade the whole time.
we did have a yucky group of people in front of us smoking out of some hose thing THE WHOLE time, losers.
i got really bored after an hour so casey and i went for a walk while wonderful kelly saved our spot.
we walked up and down washington street til casey's legs were dying.
at that point we decided to go back.
once we were almost back i remembered i had to go to the bathroom asap.
so we walked for another 1/2 hour trying to find somewhere.
during this time the new york fire department was going up and down the river shooting off fun colored water for all to enjoy.
really it was fun and the sunset at this time was gorgeous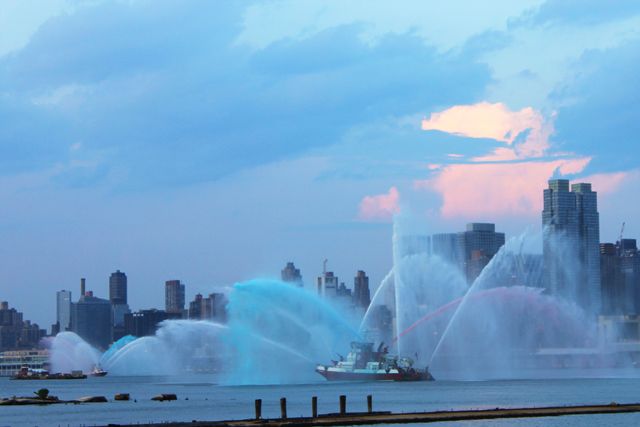 after that we decided we needed pizza
after being unable to find the pizza place that everyone was coming from with pizza boxes for a half hour,
we found it :)
alas, but the wait was 25 minutes for our pie!
mind you this whole time, it's SWELTERING hot outside.
and we didn't have our water bottle.
at that point i kept apologizing to casey that he has to walk around outside all day everyday for his job,
poor thing, i love that man.
while we waited for the pizza, we went to the overpriced ice cream shop next door hoping it would cool us down.
it was slightly cooler in the place but not for long enough.
but then our pizza was done 10 minutes early!!!!!
thank goodnesss!!!!!!
it was all we could do to get back to our spot to just sit, and eat, and drink water!
sadly our spot did not prove to be any cooler than where we had been the past hour and a half.
we did enjoy the pineapple side of the pizza very much,
they were ginormo slices.
and our water went much to quickly,
blah.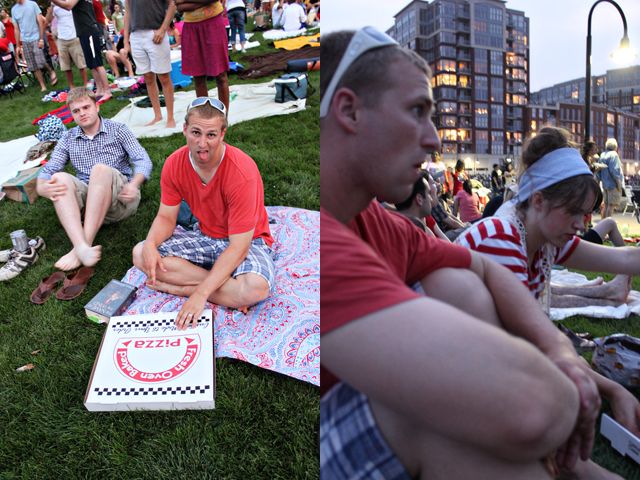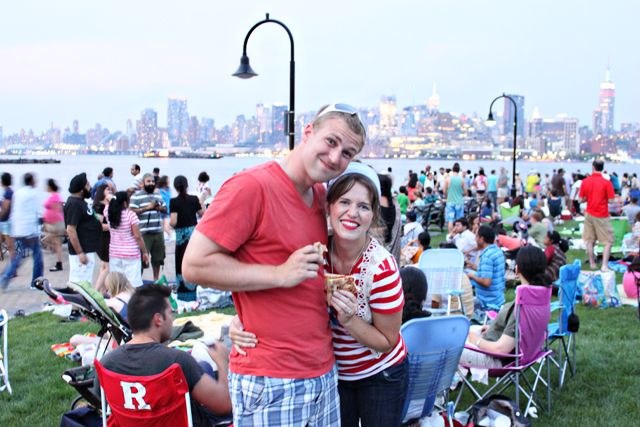 but for the fireworks we continued to wait.
at 9:25 they STARTED!
and for 26 minutes the sky was lit brilliantly with every color of the rainbow,
all kinds of fireworks,
different heights,
booming so loud you could feel it in your heart,
4 barges synchronized perfectly together across the river,
reflecting off the water and the building,
the NY skyline directly behind the fireworks,
oohs and ahhs from the crowd.
it was surely the best fireworks we've ever seen in our lives.
well worth the wait, the heat, and the effort.
i don't think anything will ever compare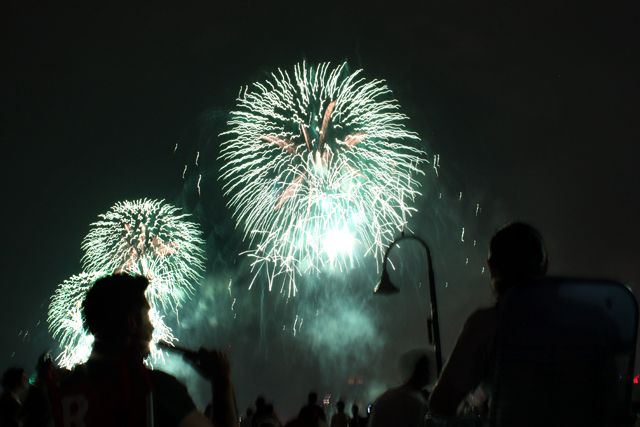 and to our surprise, a barge was DIRECTLY in front of our grass area where we were with the other 3 barges beautiful to the left so we could see it all.
but it was PACKED.
there were so many people there, i couldn't believe it, seriosuly, so busy.
but so part of the fun!
it will undoubtedly be a 4th of july hard to forget or a show to be beat.
BUT,
after the fireworks we literally ran for 15 minutes back to the train station to catch our 10:15 train,
the next train wasn't for another hour!
that run was taxing in flipflops, hot humidity, no water, blah.
but we made it.
and the train was even conditioned :)
happy birthday america!
ps- casey and i kept talking about how next year we'll get to have a little baby with us to celebrate!
ahh!! i just can't imagine how fun that'll be!!!!!!!
here i am at 19 weeks!
(i'm awesome at sticking my bum extra out in these pictures...)
and the other pic is the epitome of my life this summer.
that stupid clipboard and me on the phone. i hate my job. so grateful i can still get my work done when we go out and do fun things :)