after our trip in wyoming we drove down a couple more hours to utah to watch my niece and nephew for a few days while my brother and his wife were out of town for business stuff. we were able to sneak off a couple times to provo to try out some fun things. overall we just really loved our time there. taking care of 3 kids is hard but having incredible weather the whole time sure helped. we went to the park everyday with them if not twice a day. it was so refreshing to sit in the cool shade, perfect temperature, soft grass with no bugs, watching the children run and jump and slide and be so happy. it truly felt amazing.

here's a few of the pictures from my phone.

a. maxson slept the whole time from wyoming to utah, **tender mercy**
b. that first sight of those beautiful utah mountains was breathtaking. holy moly do we miss the mountains so very much.
c. we met up with our good friends, the sigety's, for a little hang out and lunch. it was the best. they make us laugh so hard. their little boy is adorable and towers over maxson at the mere age of 2 1/2.
d. a trip to BYU!!!!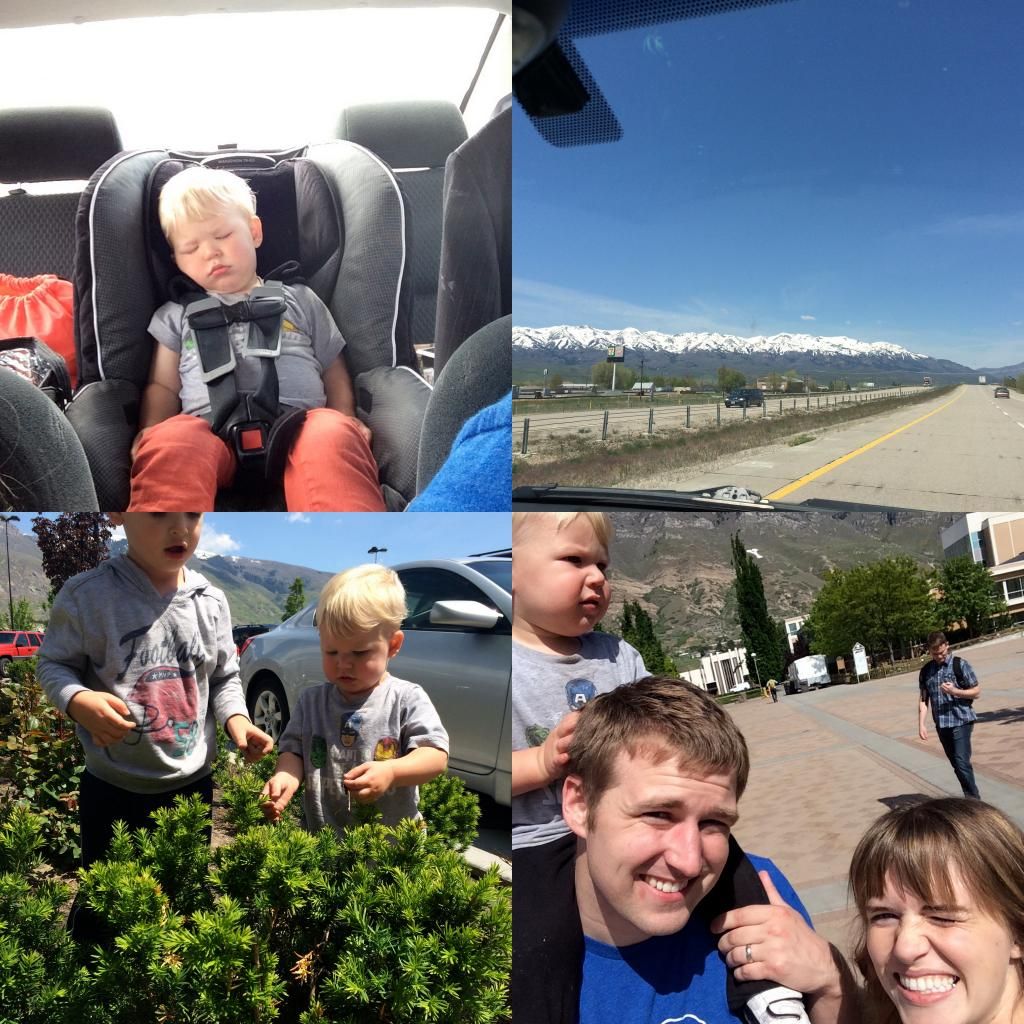 a. we loved toting maxson around with us on campus
b. Y donuts. we bought the beloved cougar tails/maple bars but these look cooler
c. parking it with our cousins britton
d. britton at the playground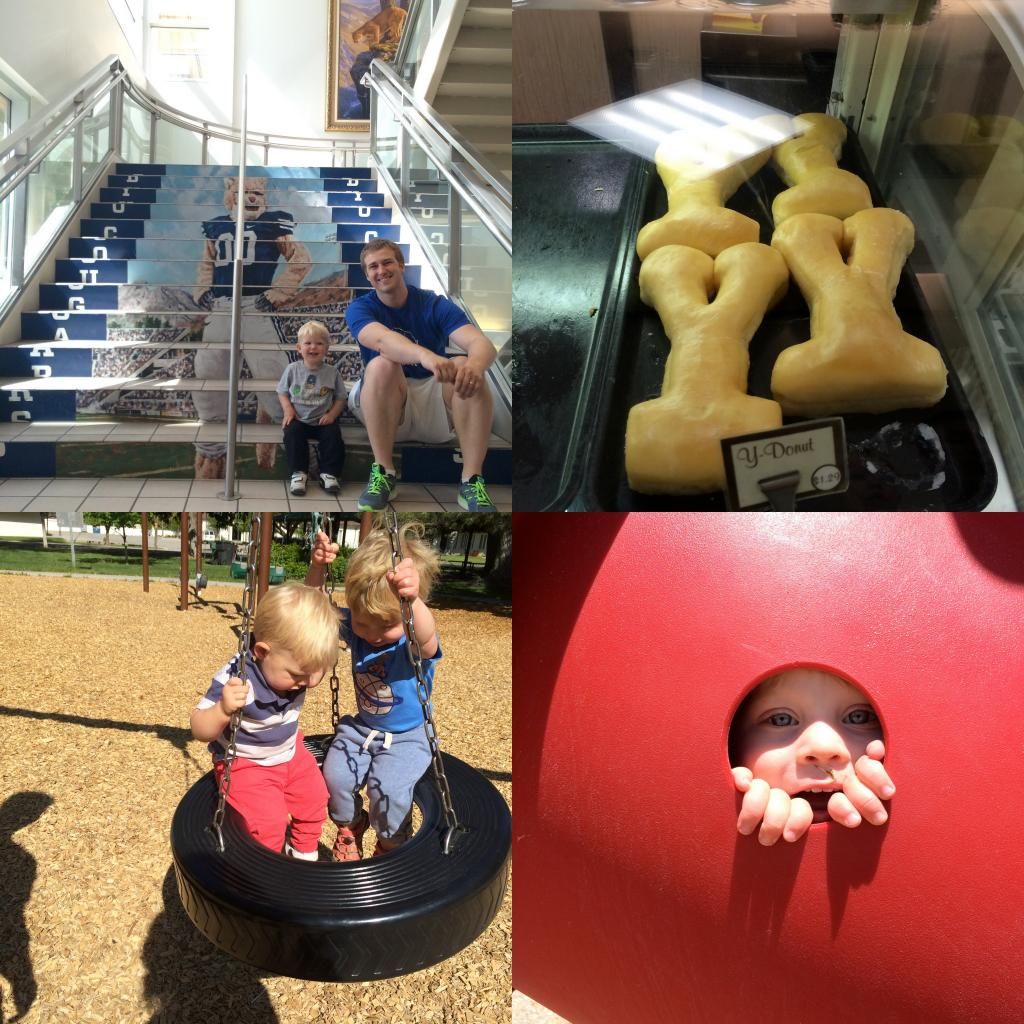 a.-d. took a small excursion up to bridal veil falls. casey was the super cool dad and bought the fish food for 25 cents, well worth the quarter because then the fish came all around us, maxson loved throwing out the little pieces of food.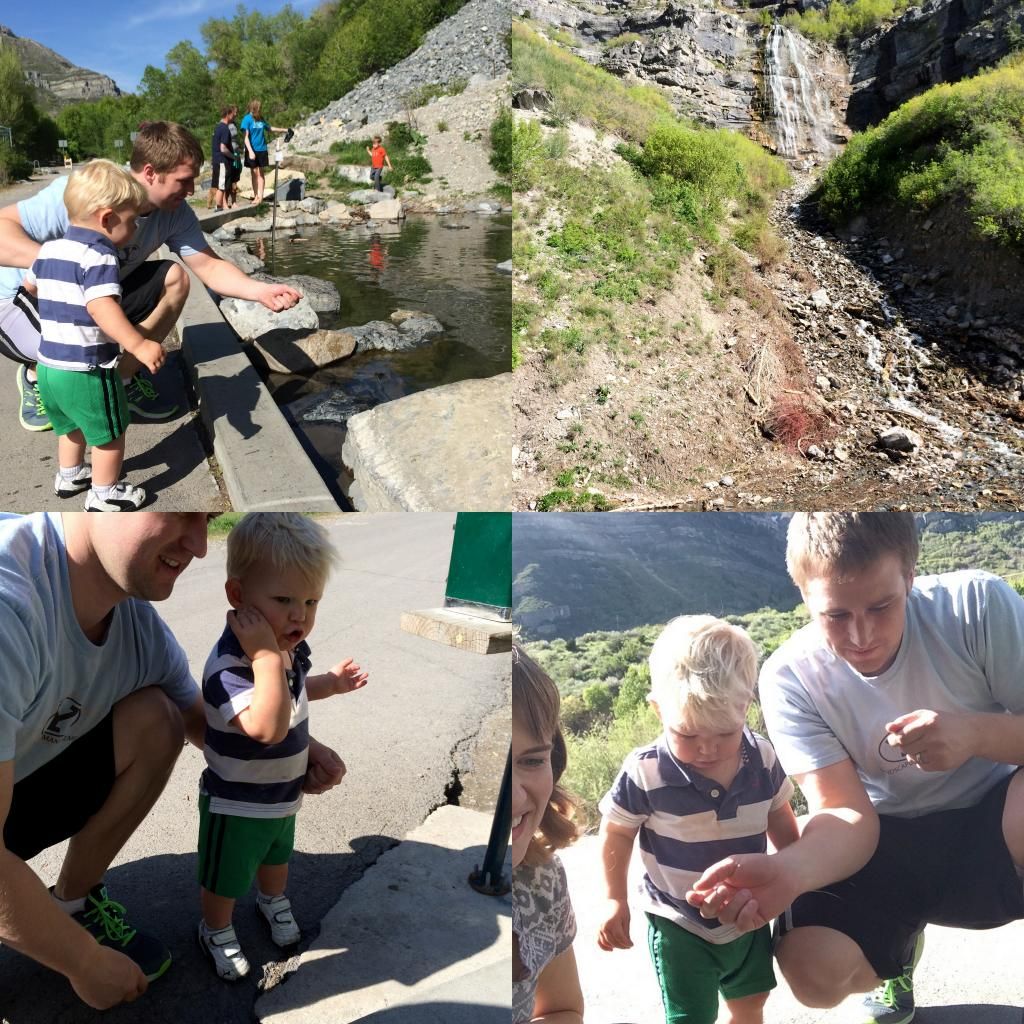 a.-c. bridal veil falls
d. lunch at j-dawgs for casey (i did take a bite and man oh man was it yummy)
a.-d. feeding the ducks at the duck pond at BYU. maxson was thoroughly impressed by the ducks and was super eager to throw them food (after his experience with the fish). he threw ginormous pieces at the ducks though, they were probably sick after we left. (j-dawgs gave us whole bag of squished bread, so nice)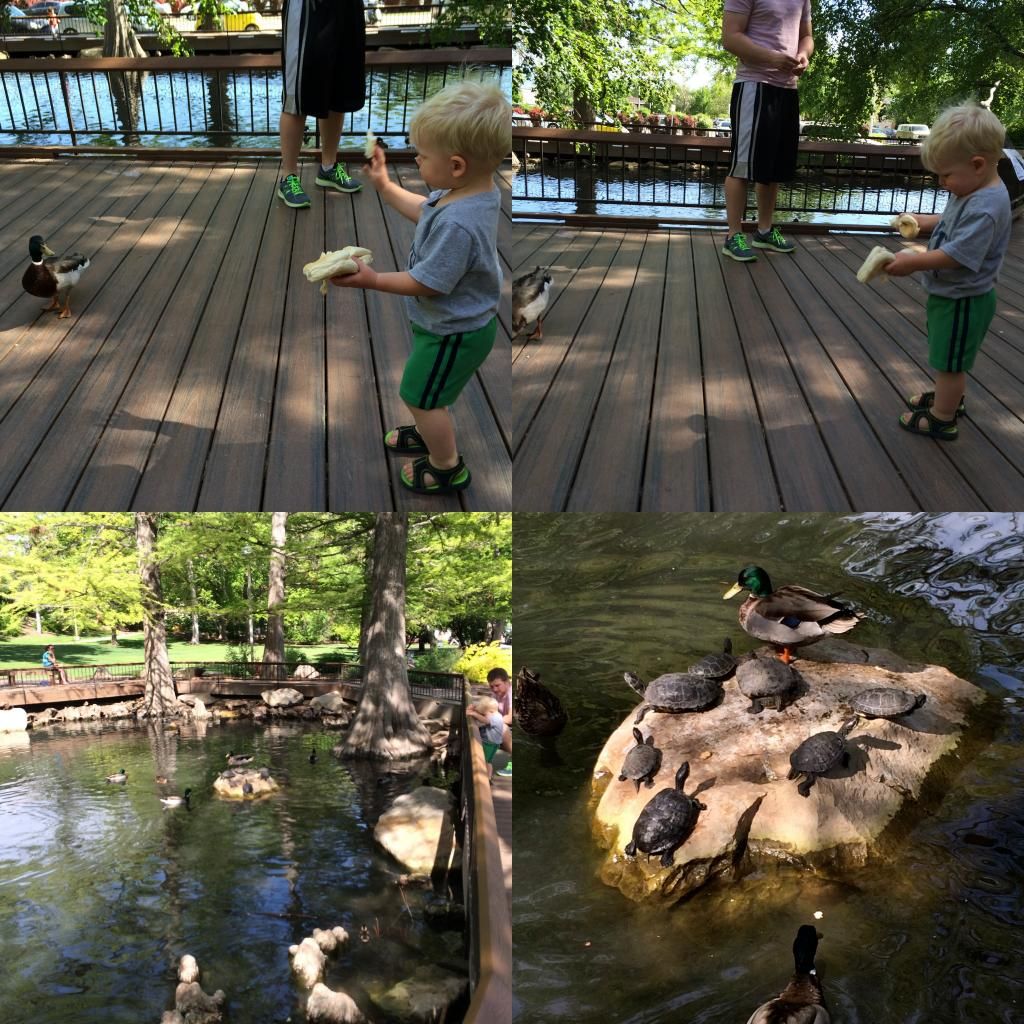 a.&b. tried out sodalicious. definitely approve. we both highly recommend the boy scout. casey went back 3 times during our trip. i also tried their sugar cookie which was equally delicious
c. finally tried out slab pizza. hoy hannah was it YUMMY! i got some potato, rosemary, bacon goodness and wow it was good. casey got the buffalo chicken (surprise surprise). he liked his a ton too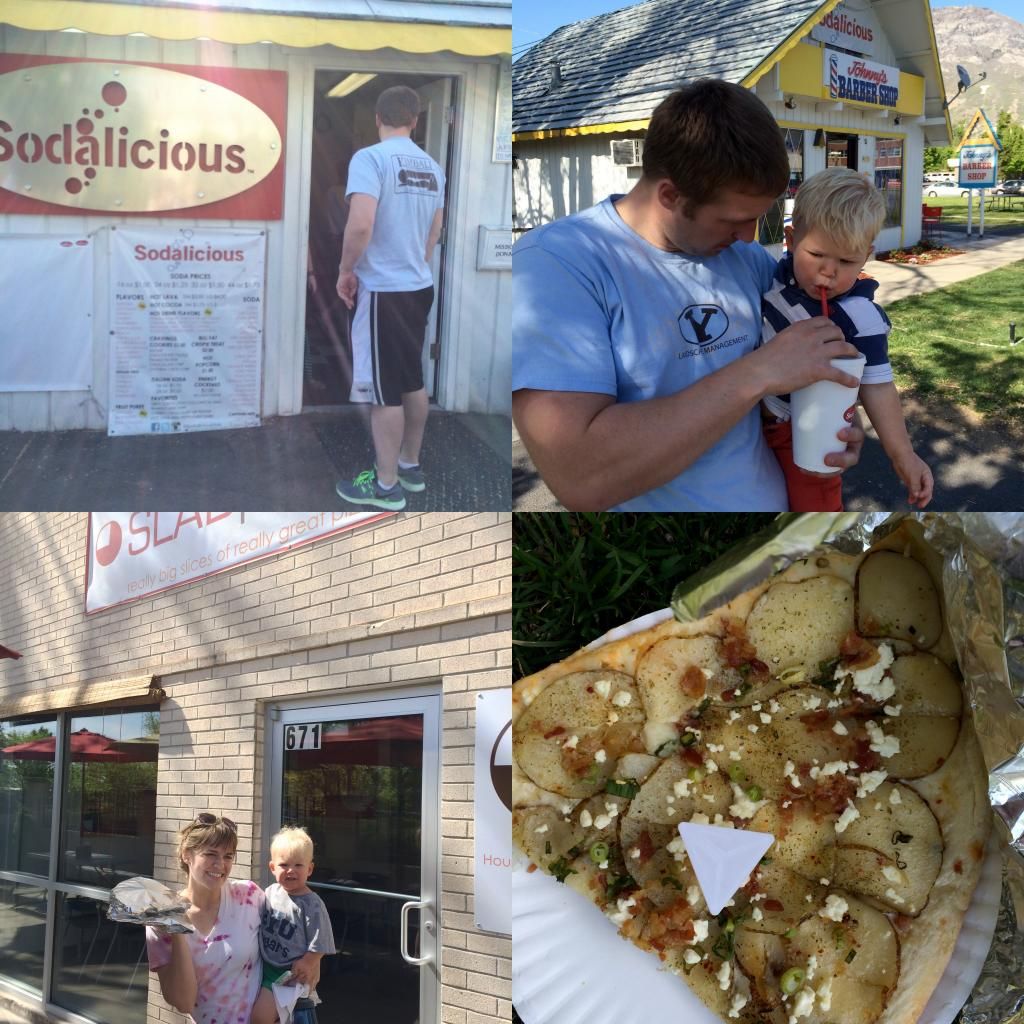 a. met up with our great friend kelly at the beloved in-n-out. dang those burgers are good
b. the beautiful timpanogas mountain.
c. went to casey's grandpa and grandma's house for dinner one evening. the kids loved all their toys. we loved the company of those wise (older) souls
d. found britton one morning like this :) desitin. the perfect santa bear was impressive.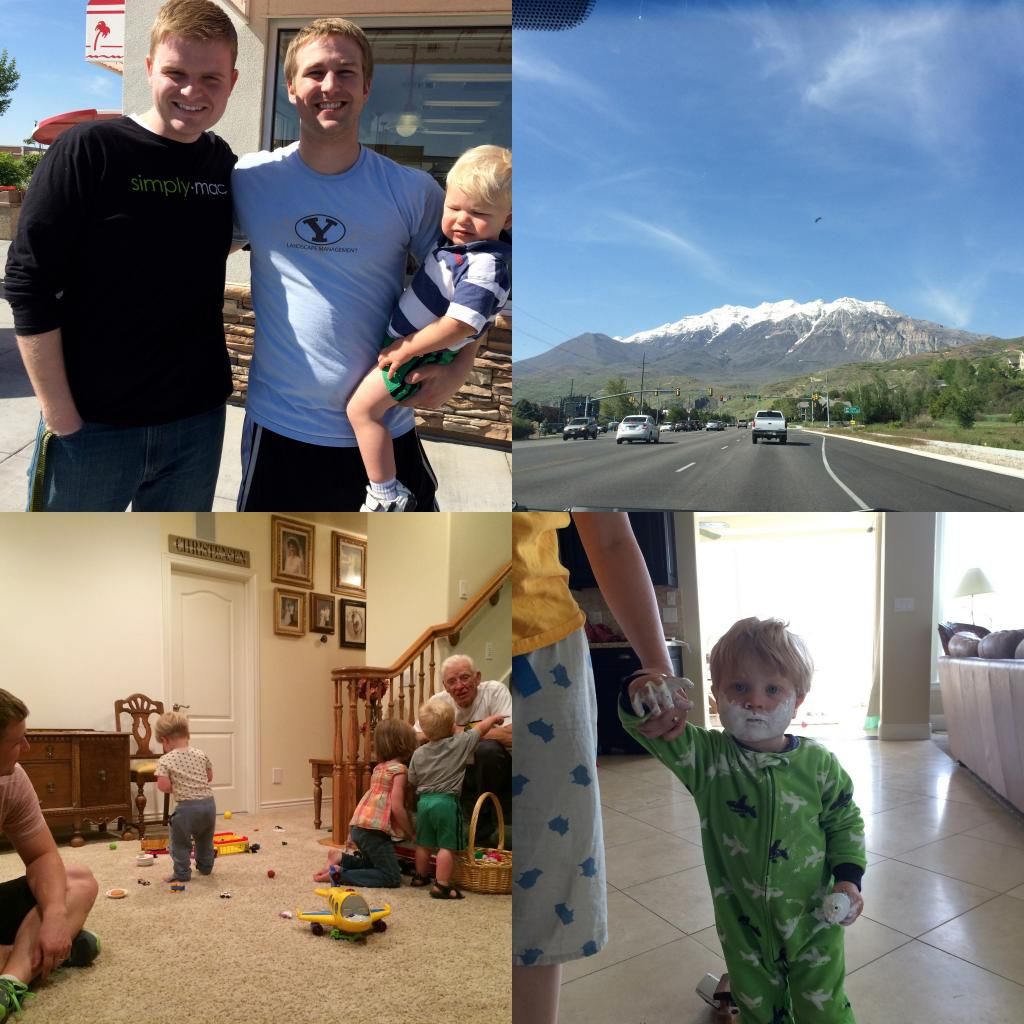 a.&b. tried out art city donuts. HOLY CRAP those were good!!!! luckily i don't live around there because those puppies would make me so fat so quick. the people working the food truck were seriously so kind to us too.
c. tried out swig. another soda place. their soda was sober carbonated but still good casey said. their sugar cookie was extremely yummy though.
d. and awful waffle! dang those crepes are so goo, lincoln needs to get on the breakfast train. abby got a waffle and loved it. we also picked up pizzas from sixth street pizzeria (2 businesses within one store) again, extremely amazing. i got the margherita and casey the buffalo chicken.
not pictured:
lunch with wonderful cousins.
a really cool jump house in the upstairs of brother's house.
brick oven pizza.
watching abby at her horse riding lesson.
a movie every night with casey.
me napping every day while the kids napped.
and here is a random list if things casey and i discussed that makes provo so special.
- it is totally normal to be driving/walking around and see people dressed up in white shirts or nice dresses at any moment in the day. you don't think twice about it. anywhere else you do a double take and say, "are those missionaries!!!!???"
- the mountains are gorgeous. holy heck. after living 2 years on flat land nebraska i can officially say the mountains in the utah valley are breathtaking and awe inspiring. even casey appreciated their majestic-ness
- all the amazing places to eat. holy heck. it's like a food gold mine in provo, so many awesome places, new ones constantly starting all in a pretty close radius to each other so it's not that big of deal to drive to them. wow there are seriously so many awesome new yummies around.
- speaking of yummies (this has nothing to do with the making provo so special part) but soda/sweet shops/breakfast treats places have completely taken over the scene of frozen yogurt
- everywhere we drove you could spot someone pushing around a stroller. made me feel like i belonged!
- there's so much energy in the city. a l l d a y l o n g. there's constantly people walking places, biking places, working out/running places, entertaining kids places. the energy never stops, it's incredible
- the gorgeous weather. no humidity is LOVELY. we hit this peak period in the year where it's pretty warm by late day (75-80) but cools off real nicely in the evenings to 40/50's. it's lovely to be outside nearly all times of the day
- the flowers everywhere. even crappy houses have made an effort to put flowers somewhere outside their home and it adds to the beautiful scenery everywhere.
-BYU. the specialness of BYU is probably only special to alumni but man oh man. walking around that campus you can't help but grin ear to ear. so many good memories it makes me want to cry. don't get me started on that bookstore. as a student i was always like "who buys all this BYU junk?" and now when i come back i'm think "casey, we need to buy ALL these wonderful BYU things!"
-church buildings everywhere. and not only church buildings, but ones with cars in the parking lots constantly. brings a smile to my face when i see that.
it's funny we were SO immersed in BYU the 4 years we were there, completely devoted our whole selves to the scene, people and lifestyle that after those 4 years we were SOO ready to be done with provo ready for something new. and now that we're gone, going back is SO fun and SO special and we miss it SO much. we definitely took advantage of it all while we lived there but oh man how we miss it. BYU friends, soak it in.