a. my view while sitting down on stealthily, maxson forgot i was in the room and played by himself for a real long time
b. but as soon as i got up, BAM! straight he went to begging at my feet
c. cute thing trying to get cheerios out, this is back when he couldn't figure it out. 2 weeks later he makes THE BIGGEST messes with that thing, i don't think he's quite ready for all the power of the self serve cheerio cup that's supposed to limit messes...
d. a sneak peak at halloween!
a.-c. back
when we went camping
. can't beleive how well maxson slept in the middle of our slowly deflating mattress, he's such a sweetie
d. a little
halloween decoration
we made. i'd like to re-draw the boo, that part turned out not so cute, ha
a. messy eating
b. one of my DREAMS came true! he fell asleep in his high chair while eating and my heart just melted! it was the cutest and funniest thing ever. his eyelids were half open while he slowly kept shoving food in his mouth until it was all gone, so freaking cute!
c. sent this picture to casey's non married siblings one morning to show our love for them
d. these foam hair hats are the COOLEST things at target this year! the timing of this picture was lightning fast because he whipped it off his head so fast
a. casey's homework: learning about dental tools
b. maxson loves to drink out of my water bottle...and then promptly spit most of it out.
c. cute bebe
d. he constantly is getting into the cupboards and drawers while i'm in (or not in) the kitchen. we finally got around to baby locking the one under the sink that holds all the cleaning stuff so now he has free reign and it's entertaining to me of what he finds entertaining.
a. & b. swinging on a friday night
c. a beautiful nebraskan sky
d. the most beautiful tall grasses on our walking group trail. the seeds at the top are silver feather looking and glimmer in the sunshine
a. - d. the weather has been glorious lately. we pretty much play outside on our beloved jean blanket everyday. sometimes friends come join us, sometimes casey happens to ride up on his bike from school, and sometimes it ends up being just us. i love all 3 scenarios
a.
general conference weekend!
our neighbors made the cinnamon rolls this year and us the breakfast casserole for conference breakfast
b. maxson slept for about half of all the sessions which helped us be able to pay attention better. when he was awake he did really good at entertaining himself
c. casey made mud pie during conference (oreos and pudding)
d. and we cuddled under my favorite blanket.
conference was SO wonderful this year!!
a. picture with president monson on tv like
last time
b. grace and maxson playing like bff's as always
c. after all the sessions we had a potato bar at a friend's house. i also encouraged a baby race while there. it was hilarious. maxson took off and then just stopped and stared at everyone. one baby sat and cried and would not move. one baby just say for a long time staring at everyone and slowly came over on her own timing. and one baby looked really scared, stood up, and ran over to her momma. oh baby races are quite funny
a. maxson hamming it up.
b. & d. casey and i took turns going through
the temple
last weekend (we go to the
winter quarters nebraska
one, we're lucky it's only an hour away allowing us to go once a month). so thankful for this beautiful weather. maxson and i sat outside under a shade tree and played in the grass for 2 hours, it was picture perfect.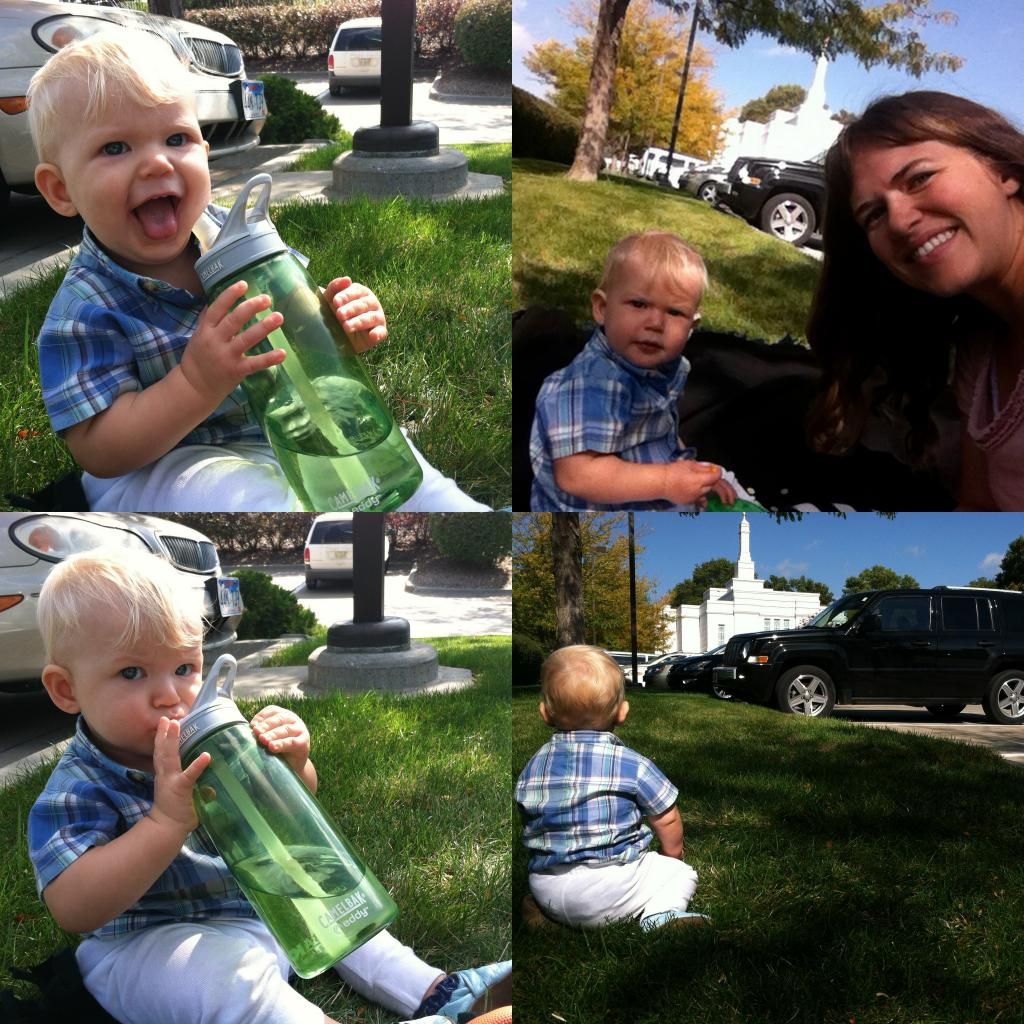 a. & b. you know it's REALLY time to start the dish washer when there's no normal utensils left, and you eat your cereal with a teaspoon in a mixing bowl in the morning...
d. first night of walking! (you can see his first step video i took on vine)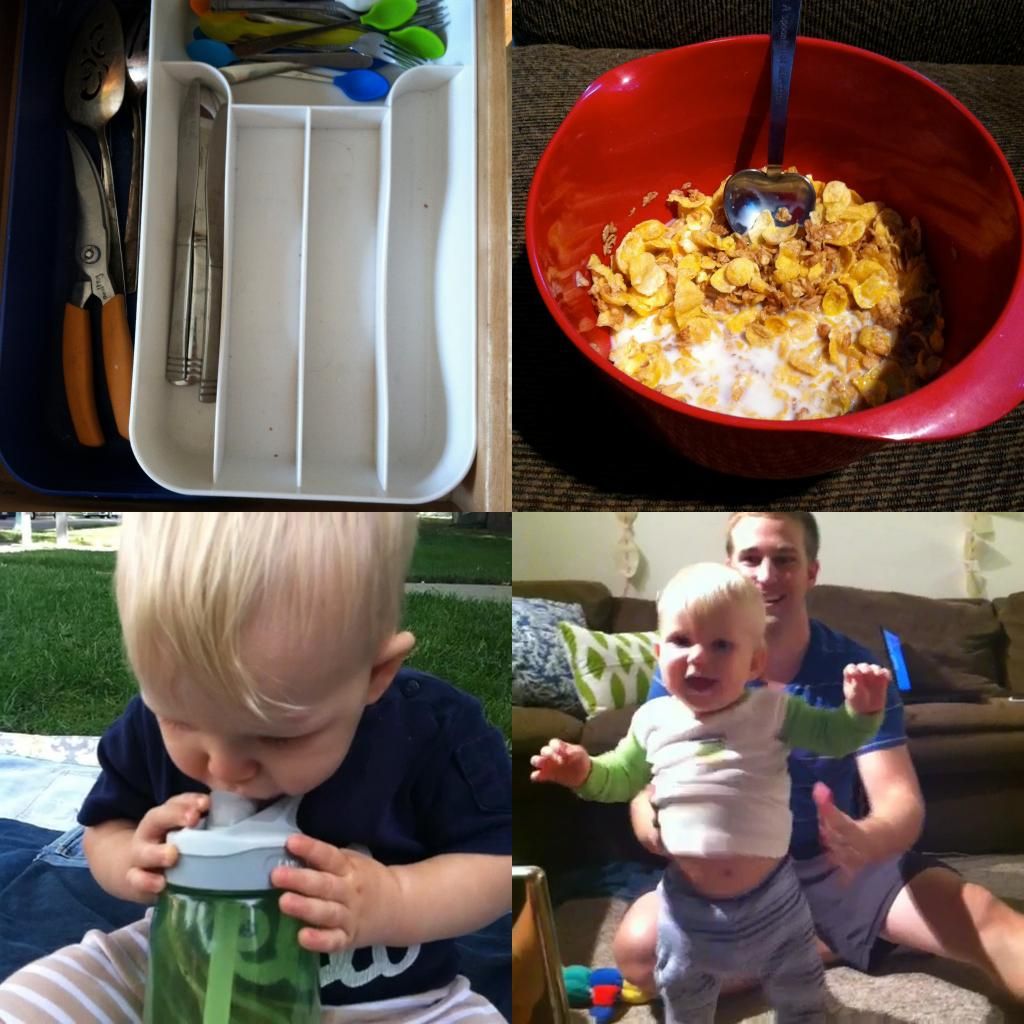 the men's group casey is in charge of in our church, the
elder's quorum,
had a shot gun shooting activity last weekend.
although the weekend was sandwhiched by awful test weeks, it was a great stress reliever and casey had loads of fun, i believe with testosterone levels reaching a new weekend high
so that's a little bit of life lately from the phones :)
ps- i would love to schedule a few more
photo shoots
in the arizona area while i'm there
this week!
(yay!) my availabiltiy has changed a little but i'll be there wed-tue so shoot me an email or message and we can discuss details!