we had the most wonderful anniversary this year. the first 3 years we celebrated our anniversary were fun but let's be honest, it wasn't
that
much different than the other 364 days of the year. it was just us and it was always just us. but for the last almost year, we've spent a lot of our time and energy helping a certain little boy grow and survive. so
this
year it was a day to
really really
focus on US. OUR marriage. OUR love. OUR attention on one another. not that the other 3 anniversaries haven't been special but we are in a different league of anniversary's now, i love it so very much.
like all our other years we continually talked to each other during the day of "what were we doing 4 years ago at this exact time." i love doing that. while another single girl friend of ours from dental school watched maxson, we sneaked away to HuHut grill, one of those Mongolian places that cooks the asian food in front of you. we had the sweetest time together asking one another to list the most BLANK in the last 4 years. best road trip, scariest road trip, best activity, best food, biggest regret, and best decision. it was so good to just sit alone with one another, laughing at past experiences and focusing on each other.
we raced home to our sweet little maxson (because an hour away from him was quite enough;) we put him to bed, i baked some cookies to share at the baby shower i then went to for just a little bit. i left the shower early to race to the theater with my sweet husband to watch the new hunger games movie, catching fire! there's something so endearing about holding hands, running through the snow, racing into the theaters together. we were surrounded by college students (very likely single and a little drunk) on all sides, we made up silly stories about the groups and giggled to each other so glad we were married. we held hands and cuddled (as much as you can cuddle in those ver separated movie chairs) riveted by the movie at every point. suddenly it was 12:15 am and our movie was over! we loved it. go see it!!!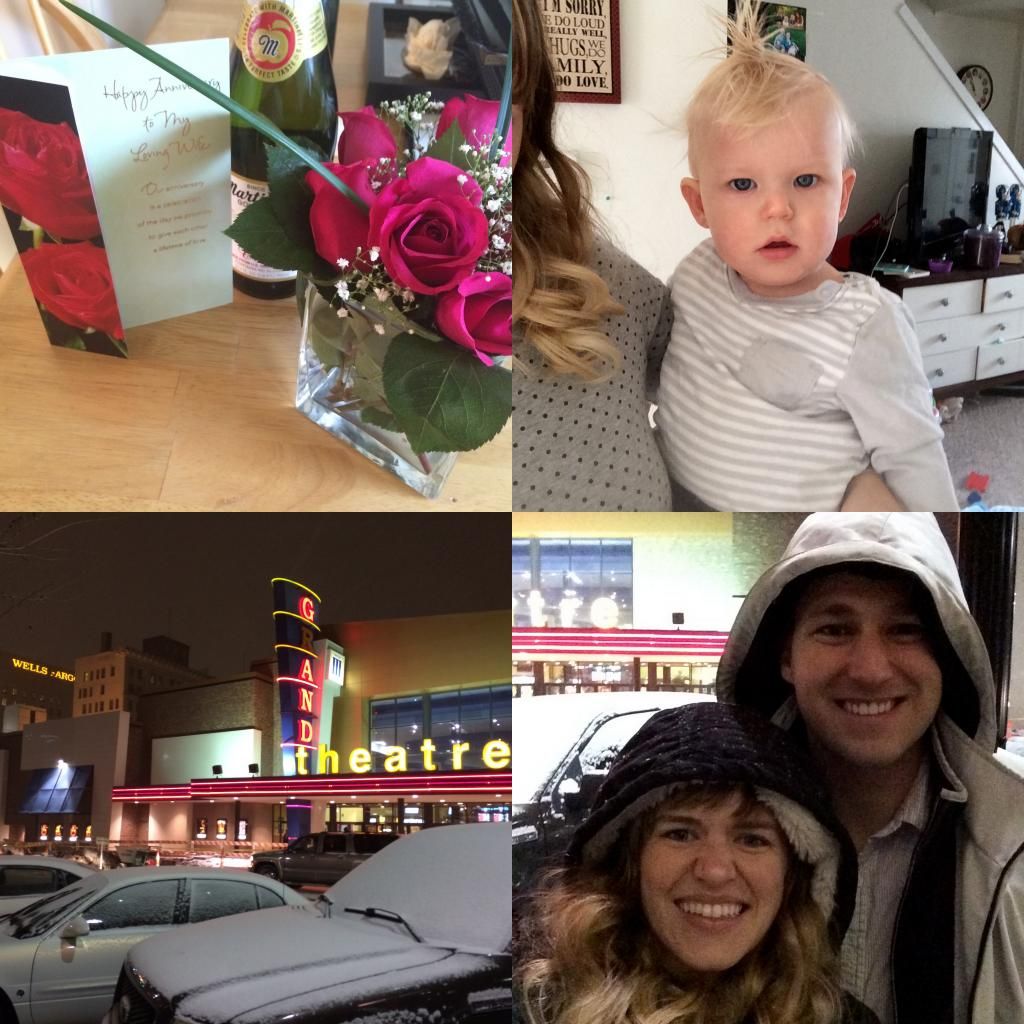 we came outside to another more snow dusting the cars and sidewalks (i'm making this sound all peachy perfect, romantic and wonderful but it was
FREEZING
outside and i was hating nebraska humid winters, that cold just BITES you!). but the night was fantastic. we were reminded how lucky we are to be married to our best friend.
happy 4 years to us, so glad we have an eternity more together!