i read this on a new blog i found today and connected with every word completely. she described EXACTLY the way i feel as a mother right now.
"
There is something magical about having a baby.
Your
baby. The way you know just how they like to be held. The way their eyes light up when you walk into a room. The way you can understand every noise they make (most of the time after you have put in some good sweat and tears to figure that out). The way your heart feels like it just may burst out of you when you watch them sleep at night. I looked forward from the time I was practically a baby myself to that time when I would be able to carry my own around on my hip, their pacifiers as a ring."
this first year of motherhood/first year of maxson's life is slipping away too quickly.
it's like trying to catch water pouring out of a firehose with just my hands.
as hard as i try, i can't keep it for longer than a few seconds, before it goes away and new water comes pouring in.
i have tears in my eyes thinking that how fast max is growing.
it's all just too fast.
my heart is so full of love for him.
i just love that little boy like mad.

***


on a lighter note,
here are some phone pictures of recently

a family trip to yorgutini.
maxson loved.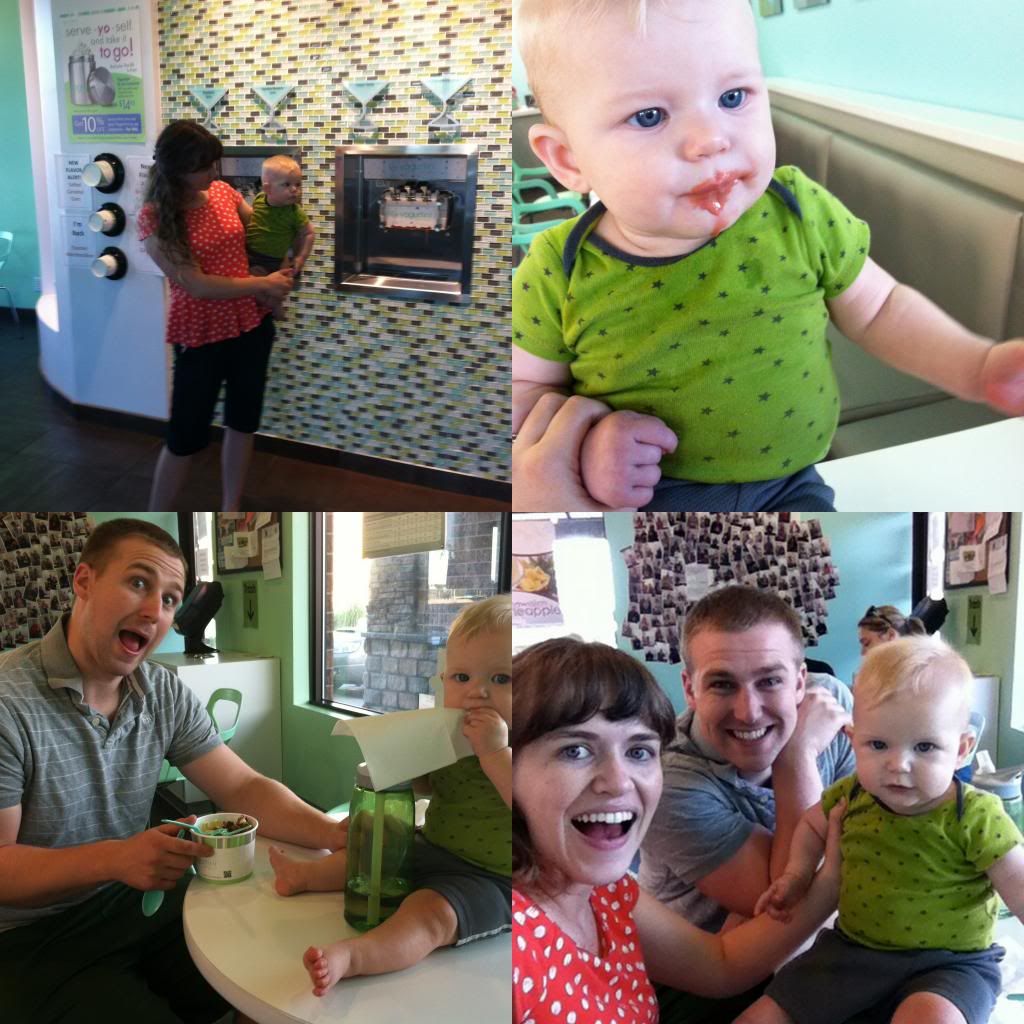 a. a beautiful view of the nebraska horizon
b. babies who sleep all night make for incredibly happy mommas
c. swinging but the lawn mower is way more exciting that the swinging action
d. up and coming local artists in our driveway
a. our 4th of july weather, are you shocked?
b. casey was a delegated pancake flipper for the 4th of july breakfast. although many of the older generation constantly commented that his pancake cooking/flipping skills were not up to their wishes, he did wonderfully, didn't you, babe?
c. a very sweet birthday card from my parents with a not so sweet amount of confetti in it that got all over that maxson promptly decided he must try to eat. that's my momma for ya
d. old man maxson:
his little hawaiin shirt
we got on our
babymoon
last year was too tight after his dinner, i had to unbutton it for his own comfort (and the extended quality of the shirt). cutest thang ever.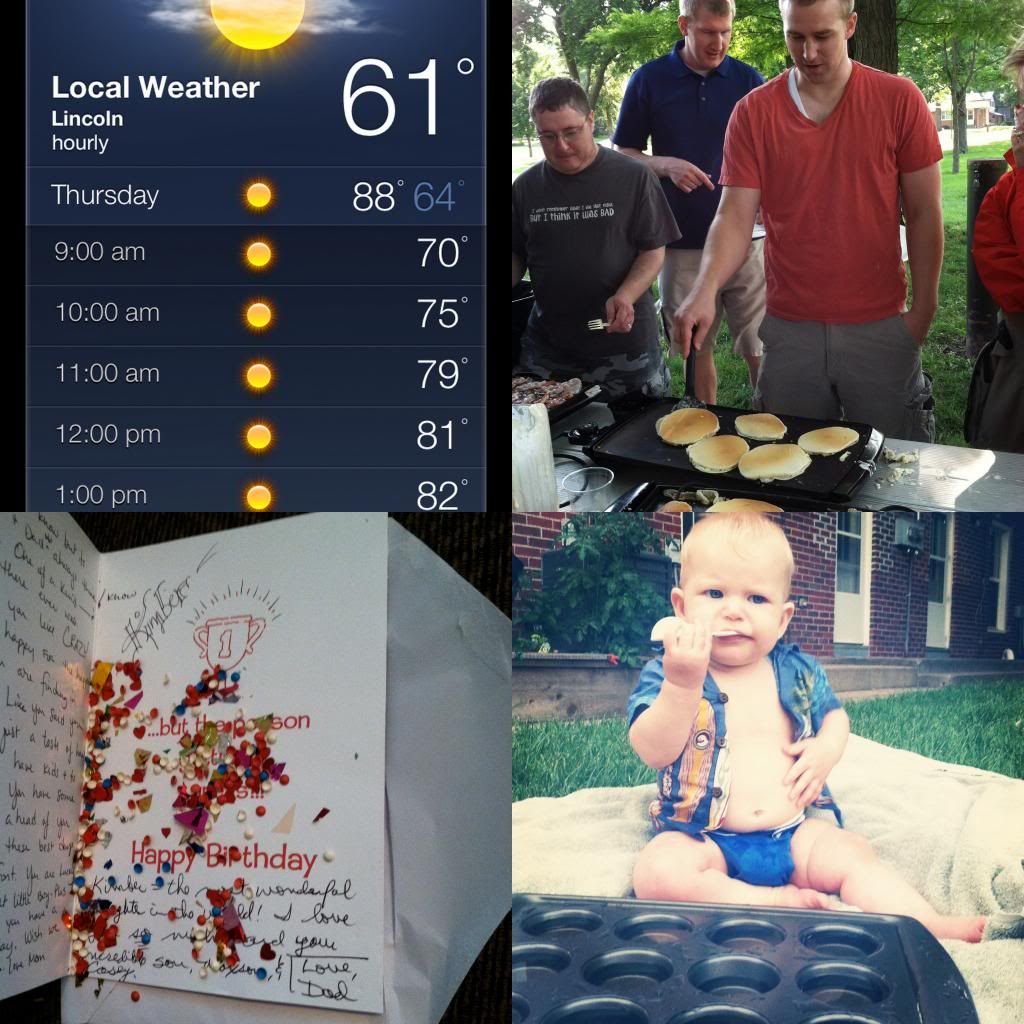 a. my toe ring of nearly a decade got caught on the floor while i was racing to maxson for one reason or another and BROKE :( that was one sad moment. my sweet dad let me pick it out with him on the side of the road at an indian stand overlooking the grand canyon all those years ago and i've ALWAYS worn it. R.I.P. toe ring
b. my little cub scouts doing some heavy duty tree digging!
c. whenever i drink out of my waterbottle maxson immediately wants his mouth on it too, always. he usually get the handle while i get the straw part.
d. twinners!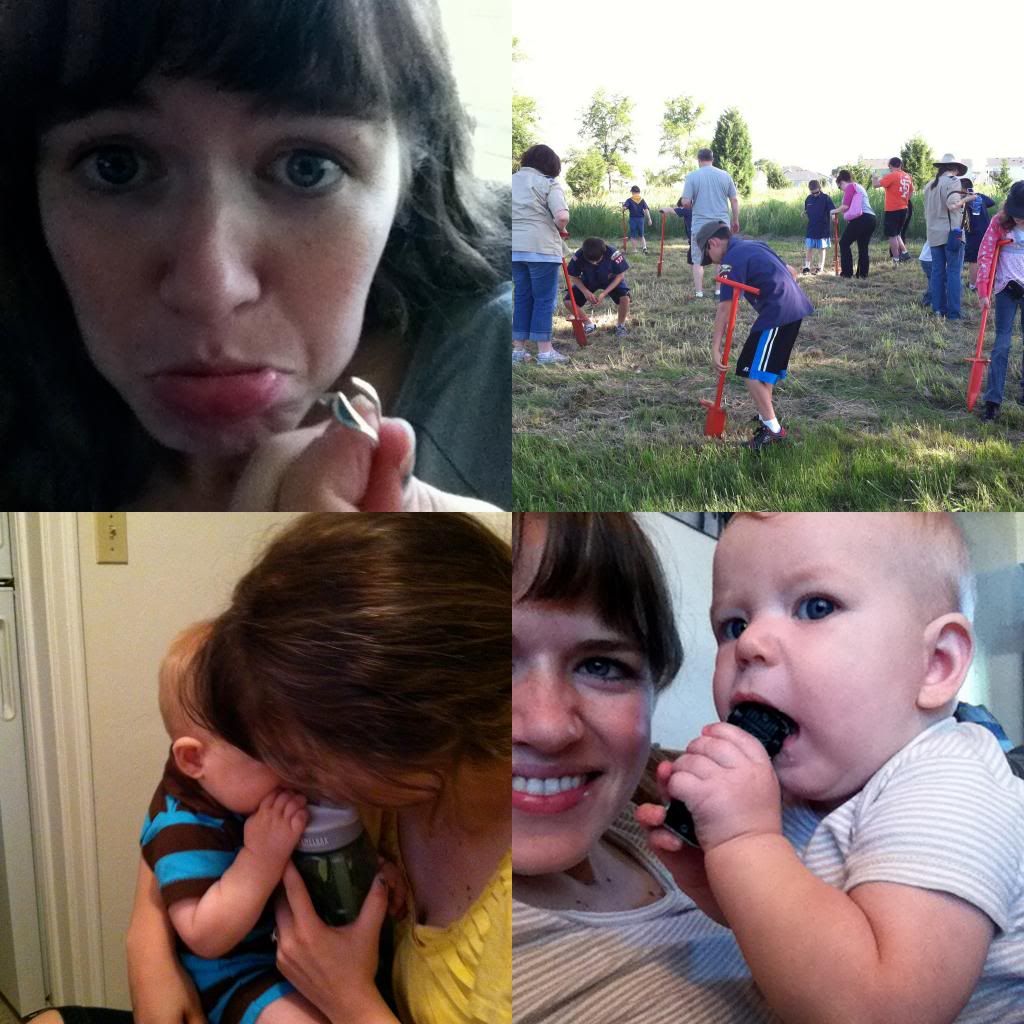 a. the most beautiful sunset. those clouds were GORGEOUS!
b. like a kid in a candy store: picking out all his fireworks. he'd pick out 3 or 4, put 2 or 3 back to compensate for a bigger and better one he wanted and that continued for 20 minutes until there were about 8 different "buy 1 get 3 free" kinds of fireworks in his basket. he loved it. i secretly did too.
c. out to dinner
d. our nightly ritual: cocoa pebbles. always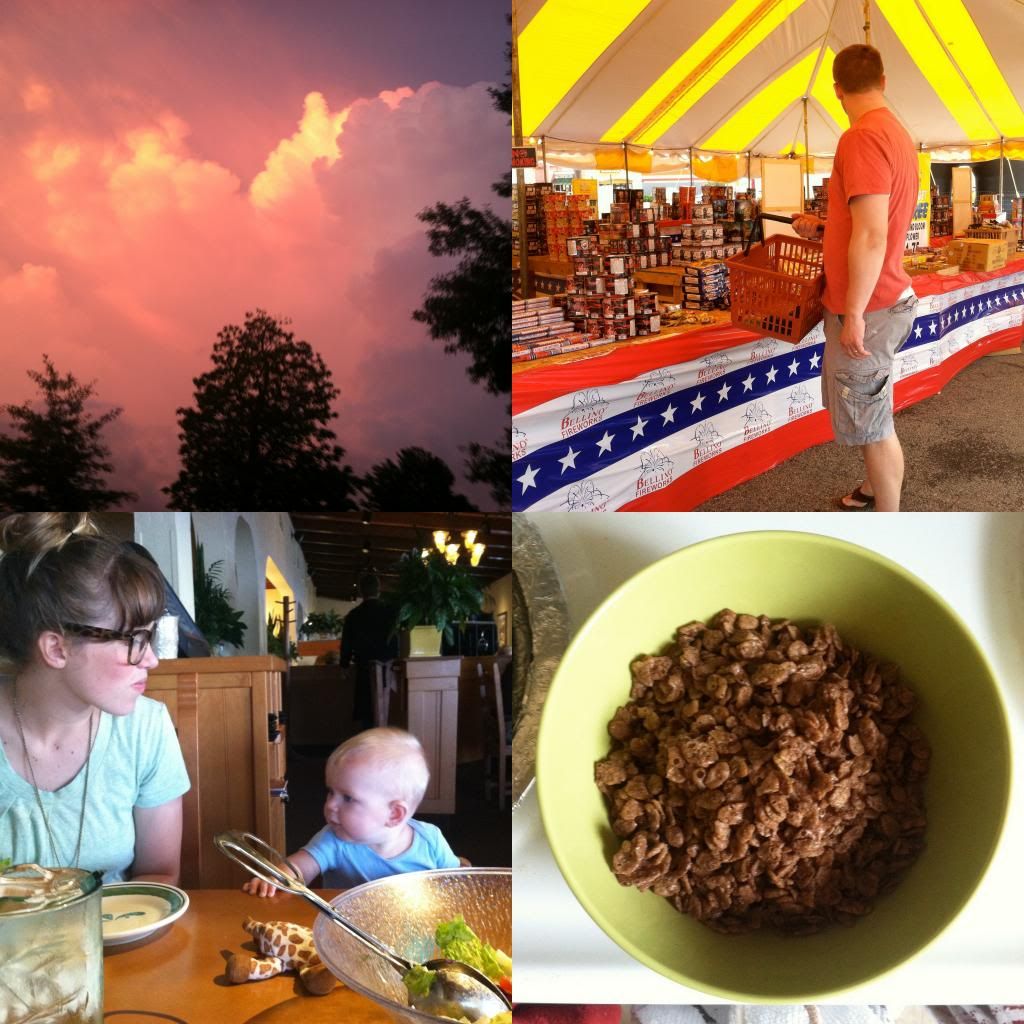 a. confining this mover to this contraption so i could get some sewing done!
b. he LOVES this activity table. he walkes circles around it all day long pushing the buttons, falling, getting back up, and continuing his circles (and excited spitting)
c. / d. bike rides!!!!
a. / b. sleeping baby max kills me. i never want it to end. except when he sleeps too long and i feel like i barely get to play with him during the day (2 months ago i would have never DREAMED that would be a problem!)
c. the weird paci again, it's just so funny in person
d. his little hawaiian outfit kills me. i wish he could wear it everyday.