1. went to church. lucky for us, there was no bread for the sacrament, so although we should have been "late" church started late and we were on time, oh yeah.
2. i subbed in the nursery again today. some of those kids make me laugh and i want to play with them all day, and then some kids make me want to pull my hair out/give them back to their parents asap. i hope my children end up in the first category for others.
3. while i was in the nursery with the little little kids, maxson took a nap in the arms of the sweetest lady visiting our ward for the summer and then continued to play with him during the third hour, so sweet of her.
4. facetimed with my mom for a little bit while maxson slept.
5. maxson was unusually overly whiny after hid nap, so we went outside on the blanket to play with toys. every time a car would pass by his eyes were on it like a hawk. one day all my caveman talk of "car! look, car! that's a car!" while pointing at objects will pay off and he'll understand what a car is.
6. i biked to my friend's house with maxson for dinner.
7. casey met us there after his additional church appointments for the most scrumptious totally from scratch dinner with homemade rolls and even two different desserts. best part about it was a full belly with no dishes at my house!
8. lounging, talking, and laughing with friends while watching maxson crawl everywhere
9. everyone played the newest casey-favorite game of cornhole in the front yard while i fed maxson food in the bumbo
10. we all raced over to the stake center for a special missionary fireside of uplifting hymns about the restoration of the gospel. throughout i was either standing up with maxson, letting him crawl places, or he was being passed to and fro from our friends.
11. cookies afterward while catching up with other friends who went
12. wrote a novel like email to a friend about more cloth diaper opinions
13. before going to bed, i peeked in on max and watched his limp body just breathing there softly, sleeping in baby land, so sweet and content. oh how i love that child of mine
14. fell asleep cuddling next to the man i love dearly.
it was a wonderful, typical sunday in the cutler home.
and other cute photos from the weekend:

maxson still isn't confident about going from standing position back to sitting, it's funny.
and often he wants so bad to reach something on the floor while standing, makes me laugh :)
and whenever i see his little feet in tip toe position i can't help but smile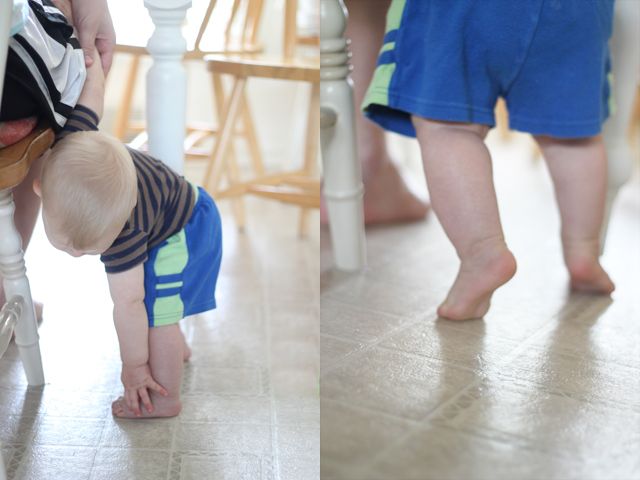 cute binki smiles
strawberries
new break through:
maxson sat through 3 books watching me read them!
he didn't try to eat them until the 4th book, i'm so proud!!!!