7 months, here we are
now EVEN CLOSER to a year and EVEN FARTHER from being a newborn, tear
what this little one is doing!
CRAWLING.
he's constant, and can sure go when he wants to.
definition of want to:
there's a piece of paper/plastic/computer chord on the ground.
iPad/iPhone/computer on the ground.
momma is not playing with him and he needs to find her.
but we LOVE it!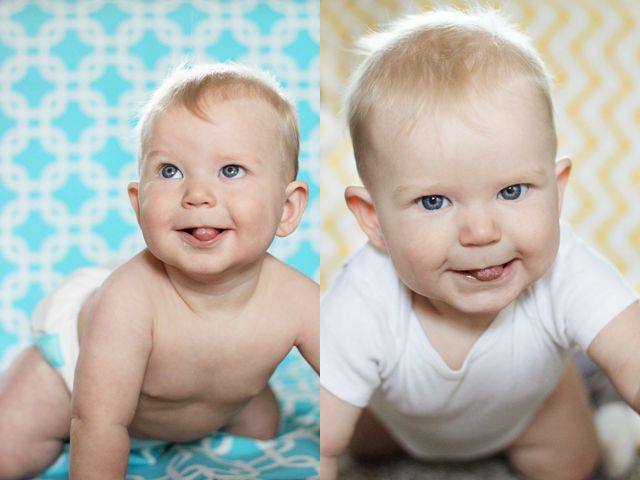 as of Sunday he also decided that he can pull himself up anything
definition of anything:
exersaucer.
people.
other babies.
unstable toys.
laundry baskets.
luckily we lowered his crib saturday afternoon in thoughts that he may be getting there soon.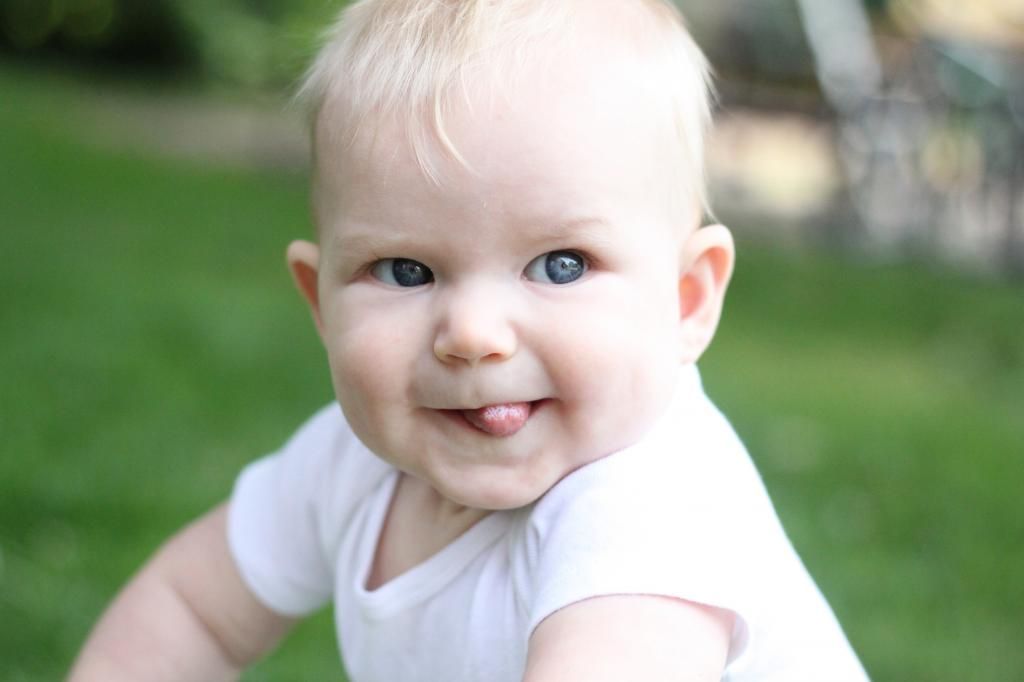 stairs.
he's also thinking he can conquer stairs and steps,
he's made it onto the big first landing by himself of our stairs but can't quite figure out the rest of them.
looks like we're going to be spending a lot of time there over the next while
eating.
he's always been a great nurser,
but now he's up to 2-3 servings of baby food with oatmeal in them 1-2 times a day.
he's loved everything we've given him thus far.
he does gag if you put bits of food in his mouth like a puff or small piece of banana,
but we'll get there.
sometimes i use
this
food mill (that i found at a garage sale) to smash up some of the already soft stuff we eat that he can have like bananas, avocado, green beans, peas, blueberries, etc.
toys.
oh he loves exploring toys and all things are toys to him.
i won't diminish the importance of real baby/kid toys because that's what he mostly plays with.
but truly all things are new and exciting to him so my sunglasses, wallet, random kitchen item, etc are all great toys.
he does not segregate.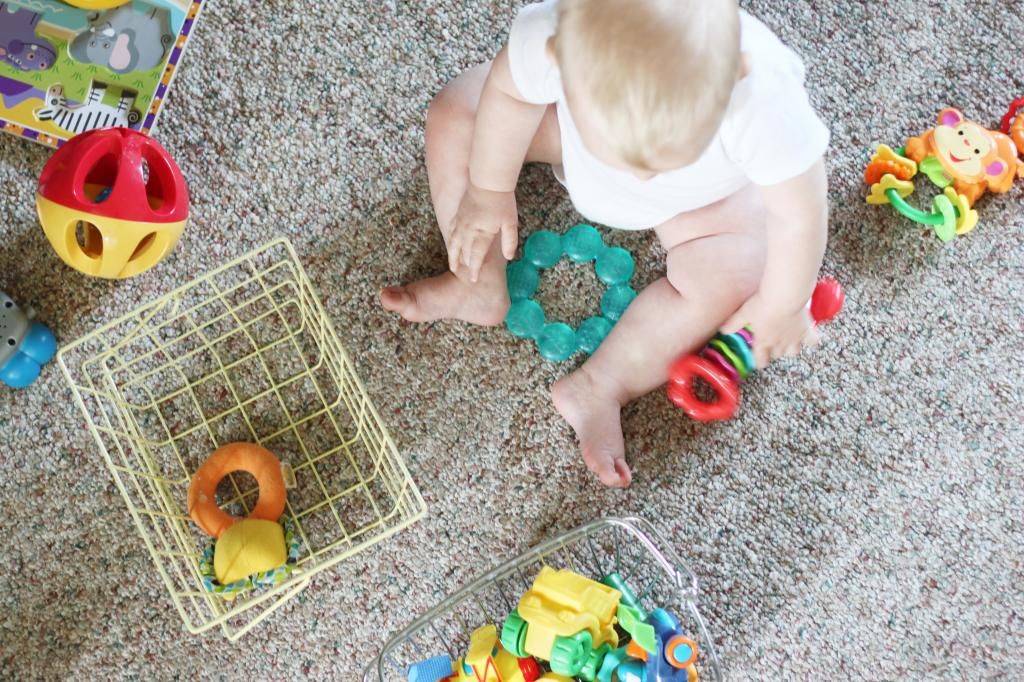 moaning.
he has continued on the tradition of moaning maxson.
he's a great little moaner
and a great non crier.
i would take his small sweet moans over his real cries any day and i honestly haven't heard a real cry from him a a long time it seems.
he was probably moaning in this picture on the right, he bites in his lower lip and MOANS away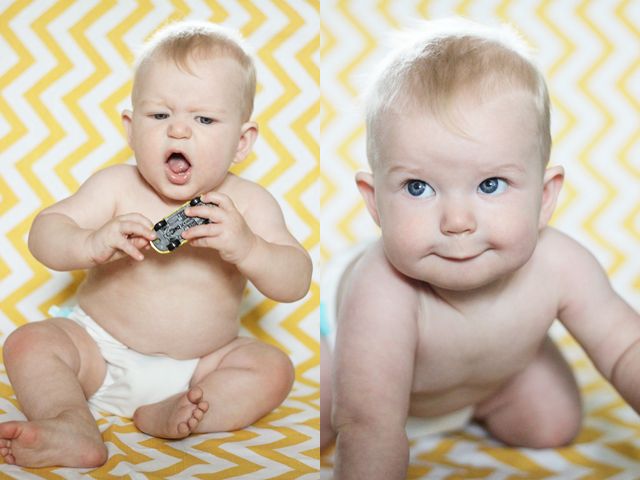 he seems to have found his tongue and has it out a lot more often, as evidenced by all the pictures on here with his tongue out.
seriously it's ALWAYS out these days!
pretty cute.
still spitting with his tongue/blubbering his lips.
it's so fun to do it back at him.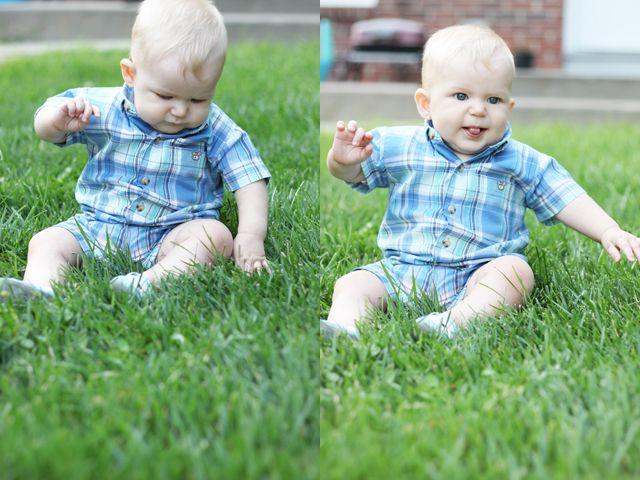 he totally has the head shaking no method down.
i'm absolutely sure it's just a developmental thing and not a i'm-telling-you-no thing.
it's funny how we've been conditioned our whole lives that head shaking back and forth horizontally means no and so when he does it i 100% automatically think he's telling me "no i don't want that song, no i don't want that toy, no i don't want that food" but i KNOW he doesn't know that.
but it's so hard to not assume he's giving me a preference when he does it.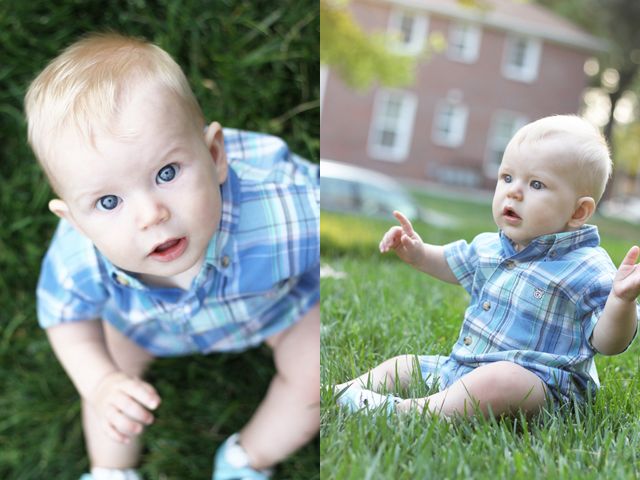 he loves facetiming.
as soon as he hears the ringing and sees his face on the screen he gets so happy and smiles real big at himself.
he smiles much more easily now for family on the screen while he watches them.
like i mentioned earlier, i often have the iPad or iPhone on the floor when we're chatting with family so they can see him crawl/so he can have motivation to crawl and he goes with such determination to get that screen.
but poor guy, as soon as he reaches it, i move it to the other side of the room to make him keep crawling.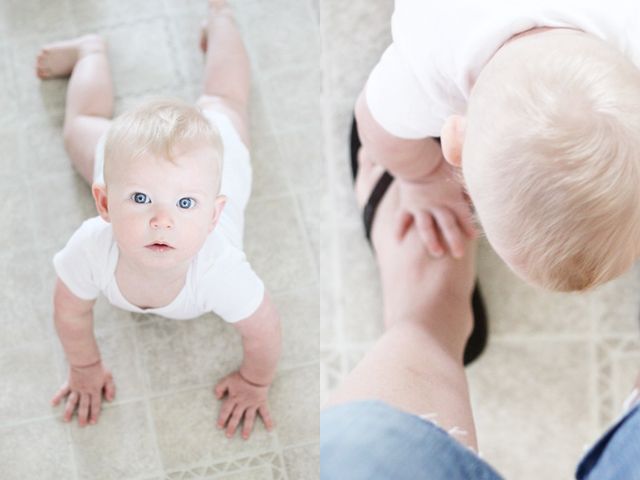 his sleeping is still getting better and better.
he goes down in the crib, by himself, awake, cuddling the little BYU sock monkey, with nearly no complaints/crying, it's sooooooo nice.
and he OFFICIALLY slept through the night once last week, a full 10 hours, of uninterrupted parent sleep.
probably one of the highlights of june for me.
i realized it was the first time in about 14 months i did not once get out of my bed all night long.
WOWWWWWWWWWWWWWWWWWWWWWWW.
hopefully he can get the sleeping through the night stuff down by himself soon because oh that was nice.
he mostly varies from sleeping a 7-8 hour stretch and then another 2-3 hour stretch waking up around 8 to start the day!
i'm looking forward to the day when he begins to help hold his weight on my hip by holding on with his legs.
right now he just hangs out like dead weight leaning back way far like a chilled out gangster,
it's strange when you look at him and realize just how far he's leaning back, silly baby.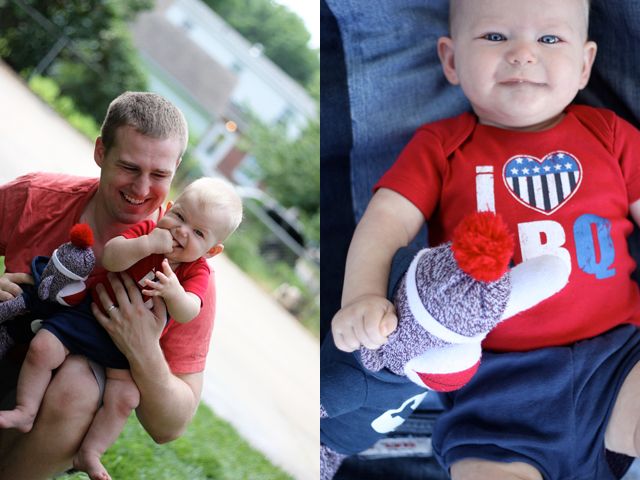 can i just say how HARD it was to capture a majority of these pictures?
for every 1 good, in focus picture there at least 10 blurry ones
most these pictures were done in just 5 minutes on different days because he wants to be on the move at all times.
now that he's crawling, ooy, he just moves as soon as i put him down!
tried my hardest to get a picture of him just sitting by the BYU monkey and as soon as casey let go,
he was off!
he's quite the wiggle worm but we love it dearly!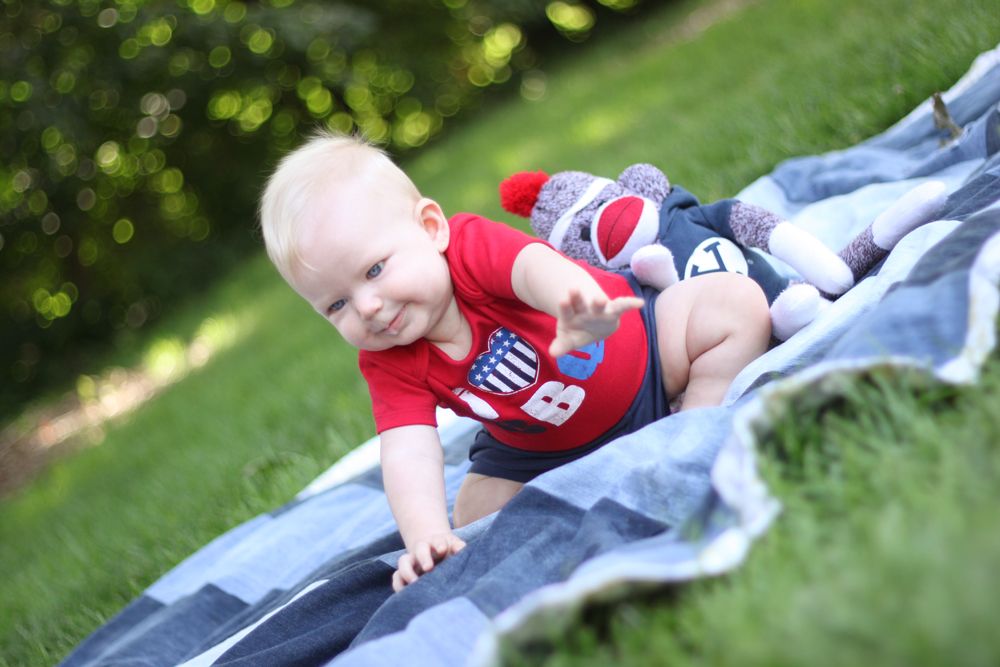 happy 7 months maximus!