2 items of business before i begin with my "i love my friends post"
1. i guest posted on my friend's blog,
the girlfriend letters
about body image this week. you read it
here.
thank you danielle for having me!
2. this month i'm challenging myself to be
in a picture everyday of the month
. mom always tends to be behind the camera and not in the pictures very much lately. i'm definitely in an it's-ok-i'll-just-take-the-picture-of-everyone-because-i-do-it-best rut. i also haven't been
that
good at asking casey to take pictures with me in it. it's not his first thought to take a picture of small motherhood moments like it is for me with cute fatherhood moments or maxson moments but i want to be remember in maxson's life to! want to do it with me?! who cares about quality or how good/not good you look, just capture real life. cell phone, point and shoot, dslr, photo booth, self-timer. i don't care. GET IN THE PICTURE! you can post the photos everyday or once a week on whatever platform you wish (or don't post them at all, just do it…) but be creative and have fun with it! i'm excited to challenge myself!
will you do it with me?
here's my picture of march 1: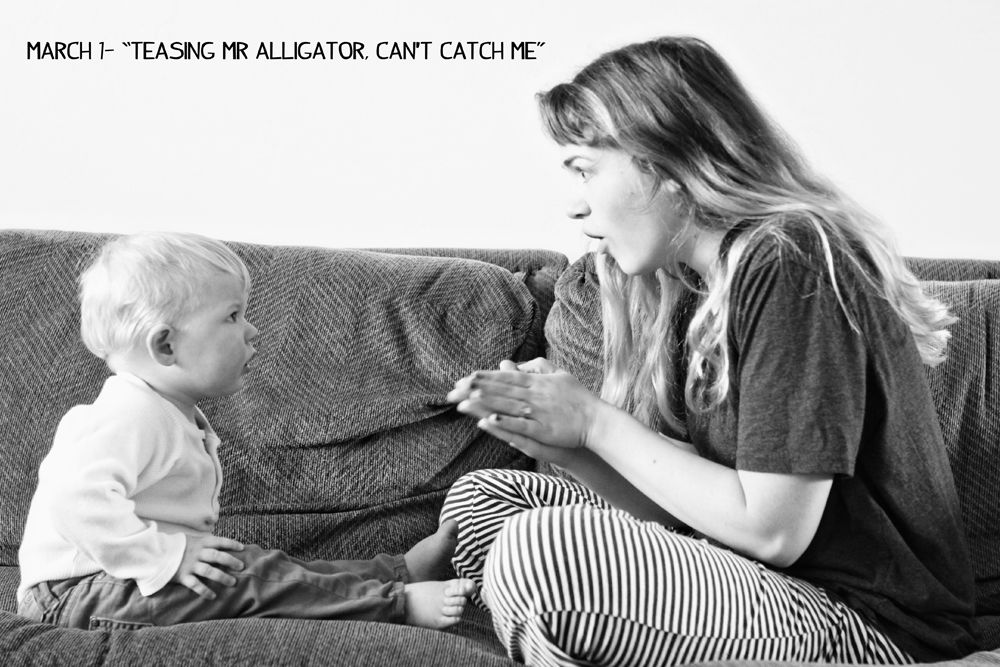 side note: this self timer picture took 10 pictures, of the 10, 8 had maxson staring at the camera, haha.
onto regular scheduled programming:
i am so incredibly blessed. the past 2 days i have been surrounded by incredible women/friends of mine. i am seriously 1 lucky gal to have happened to live by these great ladies. friday day one of my best friends who used to live here in lincoln came and visited for the day and we had a freaking blast with her. she makes us all laugh so much so we (the remaining lincoln friends) were so happy to have her here.
we played at the mall play place for a little while and then headed over to honest abe's for lunch. you guys. if you ever come visit lincoln GO TO HONEST ABE'S. it has some crazy yummo burgers. this time i got the rainbow dash burger: crunchy peanut butter sauce, grapes, bacon, and cabbage. sounds incredibly too strange to try but i had confidence in honest abe's choices and boy was i correct. i love that place, i don't think you can go wrong with any of their burger concoctions. we totally took over the place with our 5 women and 6 kids (small ratio come to think of it!). the floor was a disaster of fries when we left, but we loved it so much.
after lunch we headed back to my place to let the kids play and hang out with each other. we swapped one mom and boy for a different mom and 2 kids. it was so fun to just hang out together and talk. i love my friends so very much! i once heard someone say that the currency of life is the relationships we make and gosh darn it i am getting richer by the day.
thank you jocelyn and henry for coming to town to visit us!!!!!!
THEN that night i organized a "motherhood retreat." in reality it was just a glorified sleepover with way better stuff than just jr high girl sleepover things.
we began the night with a mini pampered chef party with the theme of chocolate. one day, i want to have a kitchen full of pampered chef products. but right now is not the day. we then went downstairs to begin painting nails and discuss some motherhood/family topics. 2 of my friends listened to some podcasts from
power of moms website
(super awesome site fyi!) to help facilitate discussions which was so great. i love learning from these great women all around me. again, gosh darn it i am one lucky girl.
we moved into a mini craft where we decorated jars and put nice notes in them to encourage each other on hard days. a couple of us did facial masks, and beyond that we just sat around and laughed, learned, and laughed with one another. most of the women left at 1:30ish and 4 of us still remained at 2:40. we decided to opt out on the sleeping over part since it was only going to be one other girl and me, ha. i creeped into bed without casey waking up (great home protector, ha) with ideas running through my mind. i was so inspired by the women around me to do/be better, i was rejuvenated and motivated as a mother to do better, i was reminded of my purpose on earth and god's love for me and the rest of His children. i feel so lucky to be a mother on this earth, i would be lost without the love of my savior throughout all this. the gospel puts everything into perspective and provides foundations for our families to grow on. how i love the gospel of Jesus Christ!
to any of my friends in lincoln that couldn't come: we missed you! to my friends who don't live in lincoln: i wish i could do this with you! to my friends in other states/areas: organize this with your friends, you won't be disappointed!