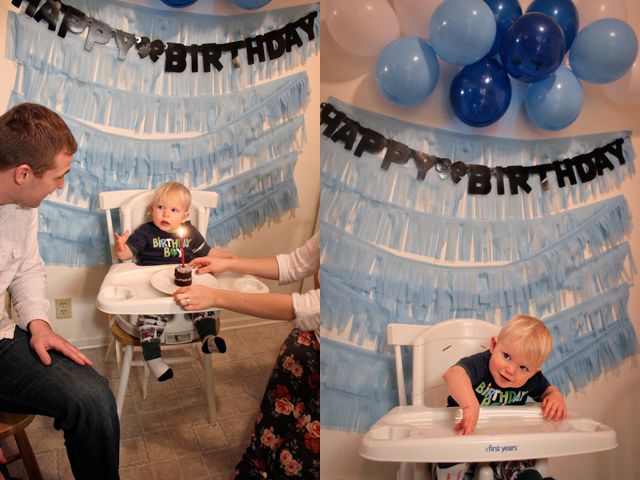 we were so lucky to have casey's family in town for maxson's birthday over thanksgiving! since everyone had to leave on sunday to get back, we celebrated his birthday with family on saturday. i wish we could celebrate all birthdays with family around because it's so darn fun. they made it really special for us and showed maxson some extra special love on his birthday party day. plus family members are great helpers when it comes to getting the place decorated and taking pictures so i get to be in some!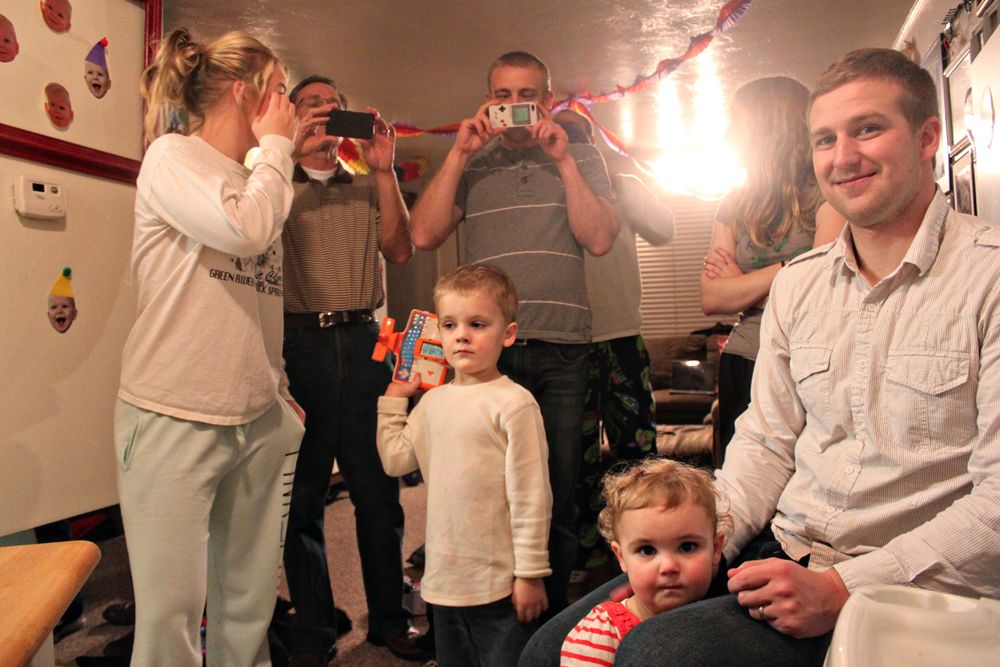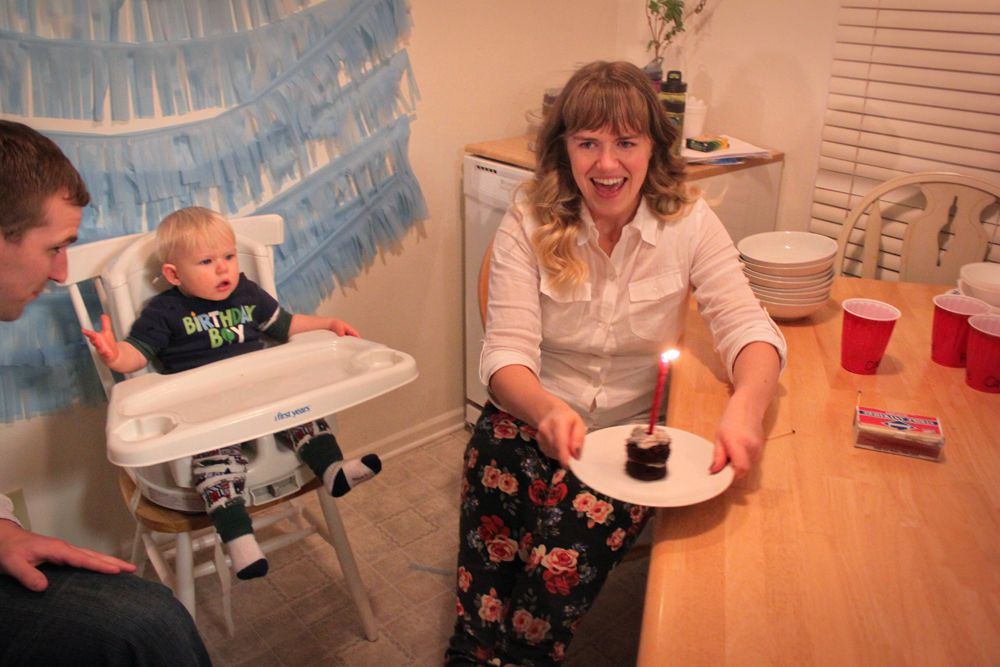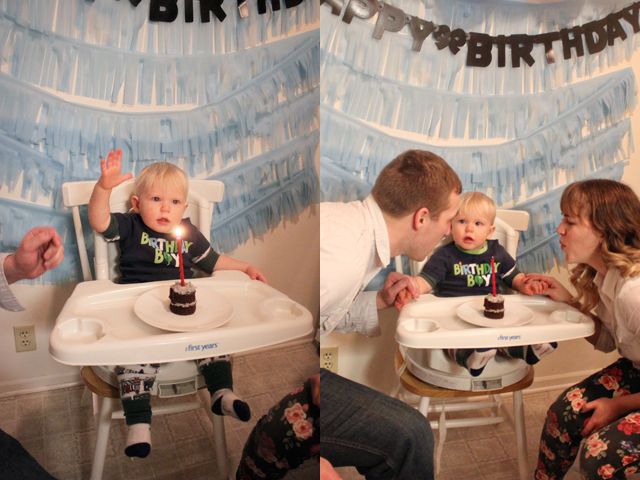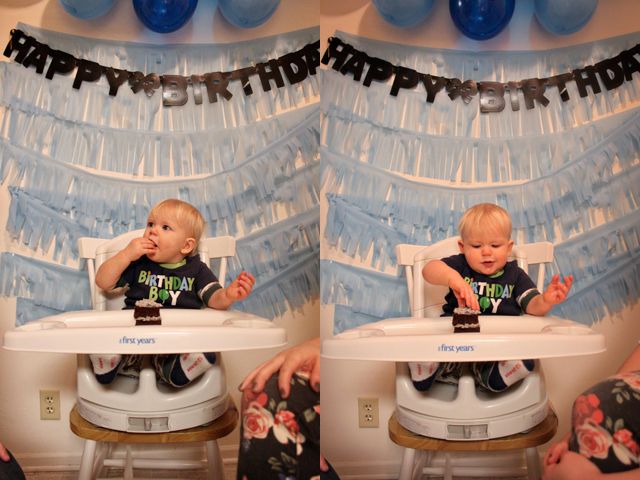 i made a tiny oreo cake for max, which he devoured.
messy?
not so much, he just picked pieces off to eat and they went straight in his mouth.
after he ate his little cake he ate a sweet potato, peas, and meat.
he just kept eating and eating and eating.
(yes we fed him cake first because my awesome cousin, clara, said the best "cake smashes" came when given cake before dinner because then they're super interested in it. sure enough he dug straight in;)
for his actual birthday we served him the rest of the cake for all 3 meals.
i kid i kid.
i did however put a cake on the meals i served him (breakfast and dinner).
by dinner time he was being super brave and trying to touch the flame, ha
we gave him pudding for his dinner dessert and he was THRILLED.
that one was messy.
but so adorably worth it, the whole time he was making nom nom nom sounds
we also remembered to do a birthday spanking train sans spanking.
maxson went through our legs on his new little car and loved it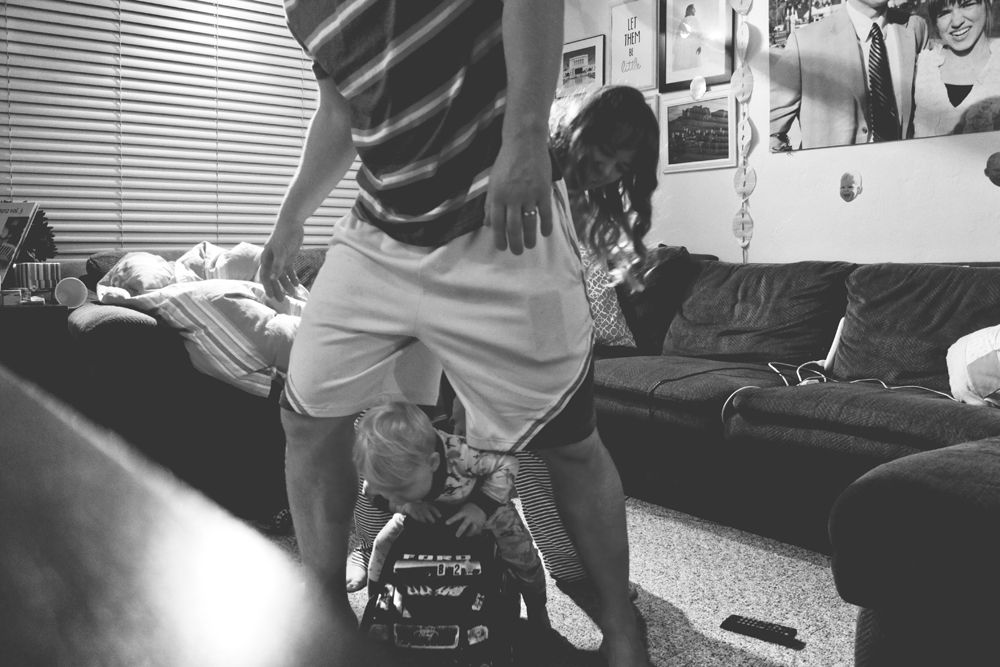 to end the night we let him hold our phones most the night as a birthday present and i'm pretty sure that was his favorite thing of all weekend, even more than the food.
he just walked from one end of the house to the other with the phone in his hand, smiling, head bobbing, running to grin at us. he was so happy
and then he began putting the phone in his mouth and we took it away and it was tears until bedtime.
HAPPY BIRTHDAY MAXSON!

***
i'll be the first to admit that i'm not great at party details.
i kept it simple and very random, ha.
we put up
streamers
all around the house like we always do for birthdays.
i also saw a special at walgreens that week for 50 free prints and thus printed out 50 photos of maxson's face (just four different shots) i cut out that silhouette and put them all over the house so we had little maxson's face staring at us happily from all sides.
it was really funny.
i made a little
fringe garland
out of tablecloth, threw that on the wall along with some balloons, and
spray painted
a dollar store happy birthday sign black and called it good!
festive it was.