willy wonka time.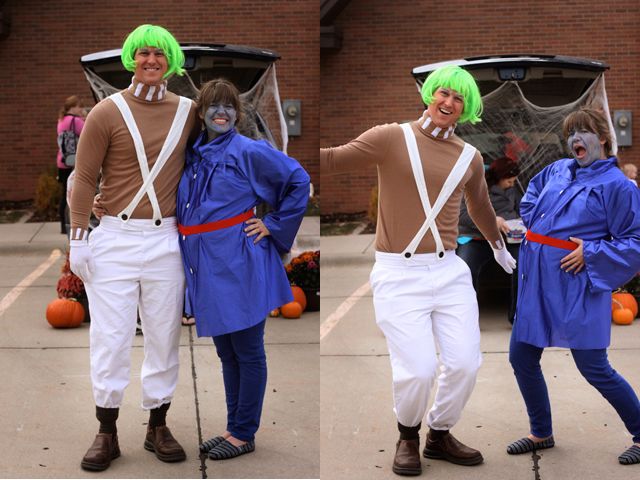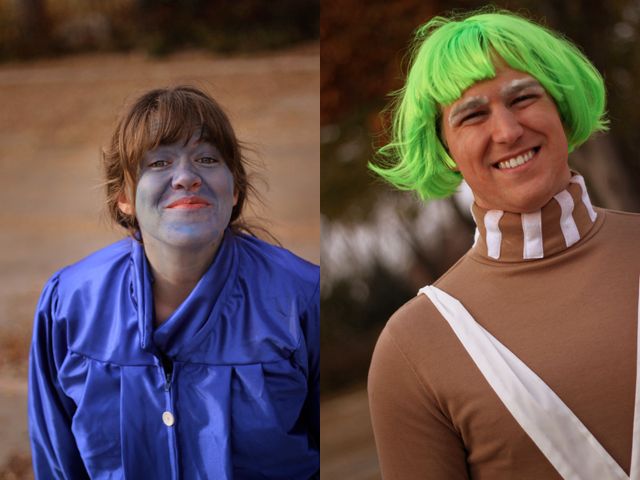 we had so much fun dressing up this year (even if it was only for like an hour...)
we mulled over ideas for our costumes for months this year.
seriously, like since we found out i'd be big and pregnant during halloween.
finally
, about 2 1/2-3 weeks ago casey came up with the idea of me being violet beauregard who turns into a blueberry!
his brilliance came forth and we were so excited for our costumes! (casey especially)
oompa loompa:
bought green wig at walmart.
bought brown (women's small) long sleeve turtle neck at goodwill.
sewed white strips to it.
sewed together those white straps from fabric on hand.
bought orange eye shadow for face.
casey powdered on flour for his eyebrows (which was the funniest thing ever).
all other materials on hand.
blueberry:
blue graduation gown from goodwill with a few sewing fixups.
bought blue eye shadow for face (came in packet with orange stuff).
hot glued red velvet ribbon together for a belt (perfect tightness too because it made me feel like i was going to pop!)
belly courtesy of baby.
all other materials on hand.
HAPPY HALLOWEEN!