so 2 weekends ago casey and i headed out to a nebraska football game!
firstly, it was a totally different experience than from BYU football.
details first.
pictures second.
casey has season tickets.
the first 2 games he sold his ticket because either we were gone in AZ or i had just gotten back from AZ.
so this was his first too!


tailgating around here seems to be a much bigger deal than the game itself.
EVERYONE tailgates.
pretty much the whole city is rented out for different tailgates, it's insane.


EVERYONE is in red.
it's an absolute sea of red.
we went with another couple in our ward and were constantly losing them because they just blended into the sea of red.
we wore our wheres waldo shirts because i didn't have a red shirt that fit and i convinced casey to match me.


there's an itty bitty student section, and then a GINORMO everyone else section.
nebraska football is truly the main event of the whole state.


30 minutes before the game started the stadium was PACKED,
i was amazed.
we sat with a large section of dental students.
everyone stood for such a long time,
even the non student/expensive seat section.
i however withstood the peer pressure to stand for very long due to the super hot sun (the whole time) and being large with child.
the student section did stand the whole game (even after it was super boring after the first quarter).


on all nebraska kick offs, everyone takes off their shoe and puts it in the air...strange but cool.
their mascot is really weird.


i felt like a poser/wannabe trying to join all their chants, i just couldn't get into it as well as i didn't know it at all.


we left at half time (sadly) because they were beating the other team so bad, the sun was too dang hot, and casey had an elder's quorum video game night activity to attend.


overall, i'm glad i got to go.
it was way fun and an eye opening experience to football.
go huskers.
(the picture of us together below was like 15 minutes before the game started, do you see how PACKED it is?!)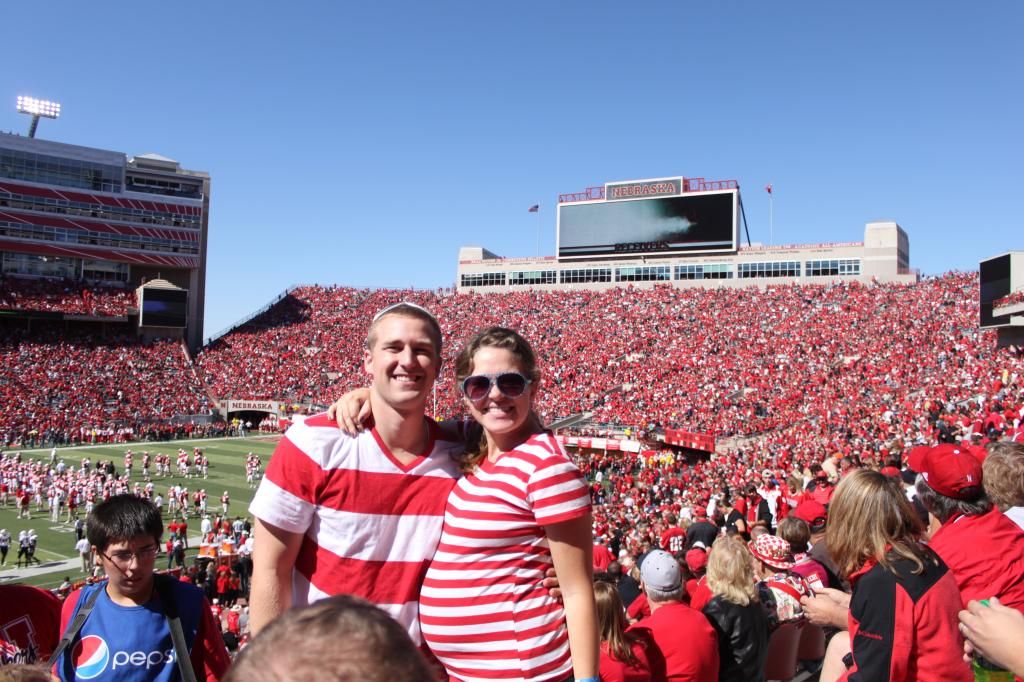 i have much more fun watching the games at home and feel better about cheering them on in my own living room than with real fans in a stadium.
cougar football on the other hand...even if they're losing i'm still pumped for all the plays :)
go cougars.