so, like i mentioned before,
we went to NYC for our 2nd day's adventure!
after way too much of our money had been given to toll roads,
we finally arrived at staten island to take the ferry over to manhattan island, woo hoo!
it was so fun seeing those first glimpses of the skyline and a little bit of the statue of liberty!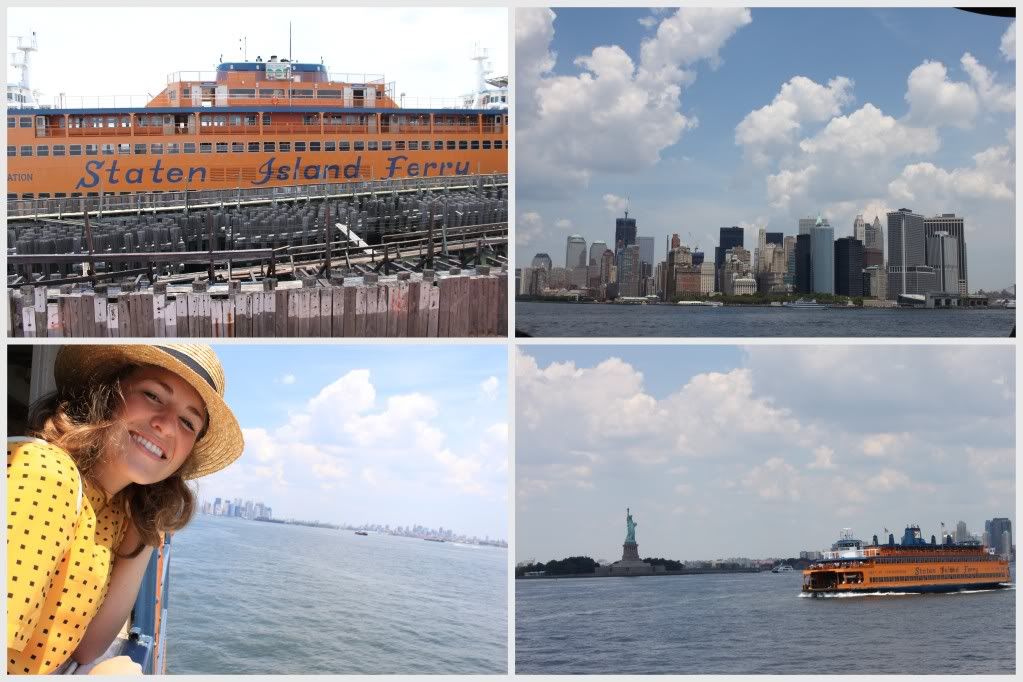 our young, immature minds came to NYC for about 7 hours with no plans except to meet up with some friends of mine at some point!
ya, we're prepared like that.
we had hopes to visit certain places but didn't really understand what order to get to them all or how to get to them all!
a few locals were sure nice and helped us along are way!
and once we finally got a tourist map our ideas were much more clear!

we wondered our way up one of the streets to find ground zero lying before us,
it was crazy to think that a little over 10 years ago those streets were covered in debris and so many lives were lost.
we walked through 9/11 memorial which was quite surreal.
after that we meandered away around the streets trying to go somewhere else exciting!
and boy was it fun to just hold hands, and look at each other, and say "oh my goodness! we're in new york city!"
we found a subway and traveled our way up a little north.
very exciting.
very grungy.
ha, but as we sat, casey poked holes in our map so we could finally see where we wanted to go!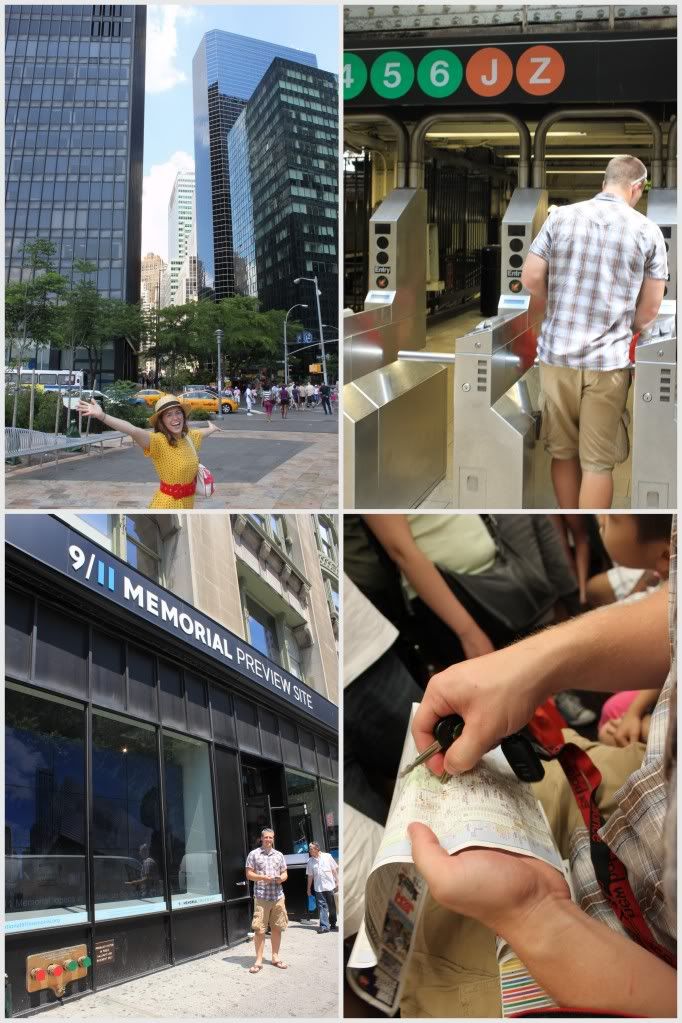 we hurried our way over to the empire state building
and paid way too much to get to the top!
ha, but it was fun to see the whole city from up there,
really, that place IS a concrete jungle!!!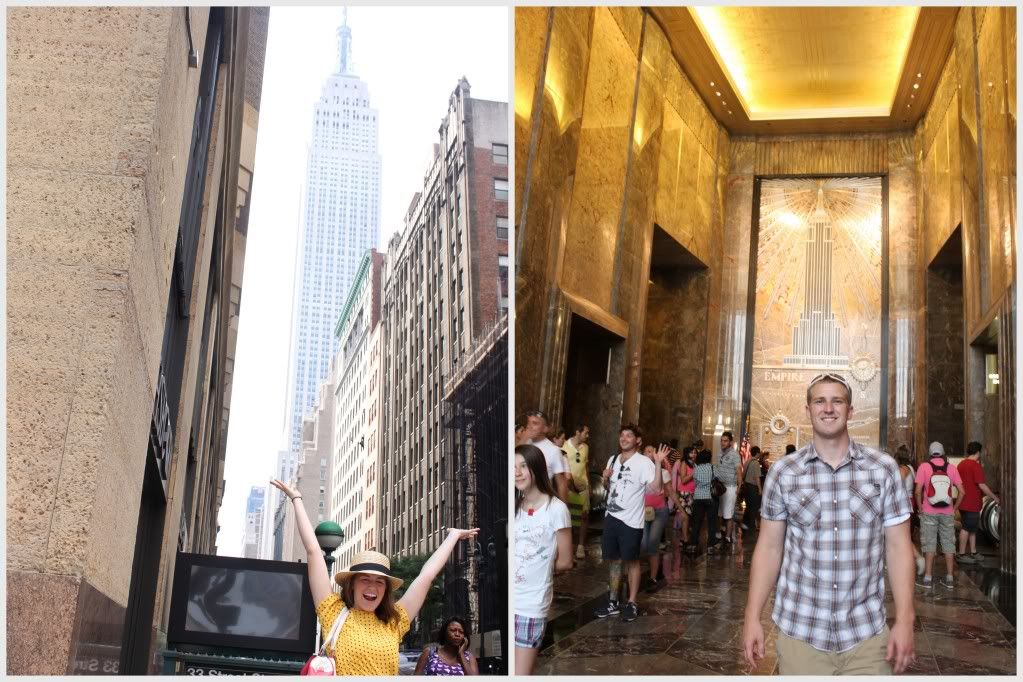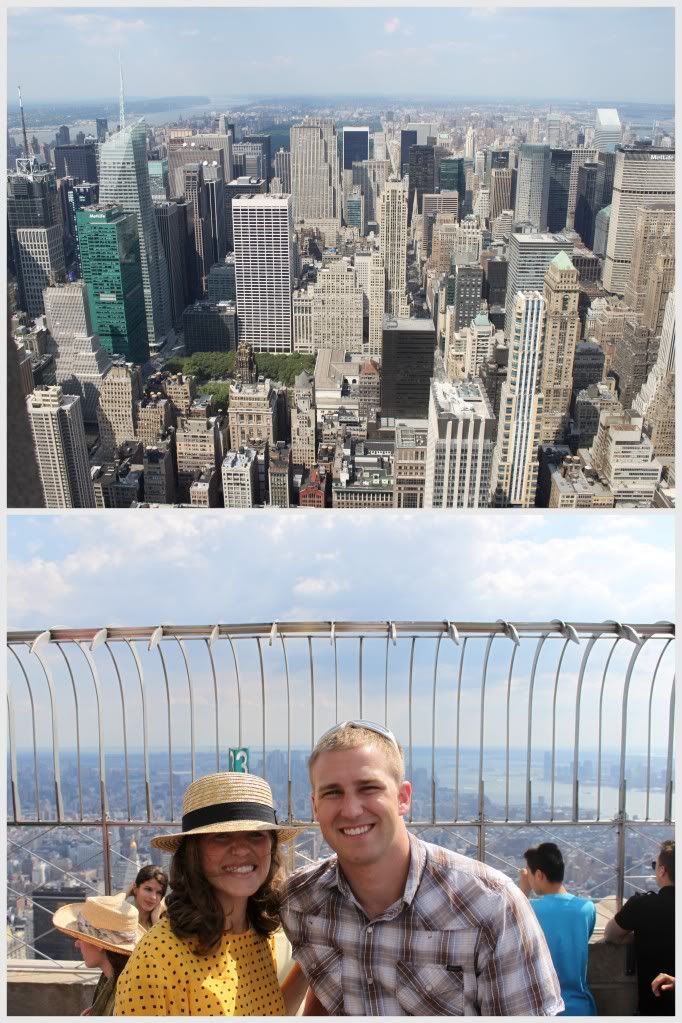 and can you believe the only food we bought in NYC was an ice cream cone!
ha, pathetic i know bc there's SO much good flavor in that city, or so i've heard.
we were just so busy running here to there we didn't have time!
we walked up to times square and gawked at it's largeness.
ha, just like i'd seen in pictures before!
all the huge ads, signs, people, and stuff!
we speed walked our bums up to central park and did a few heel clicks and jumps to prove we were there.
totally awesome that someone decided to keep a ginormous park there in the city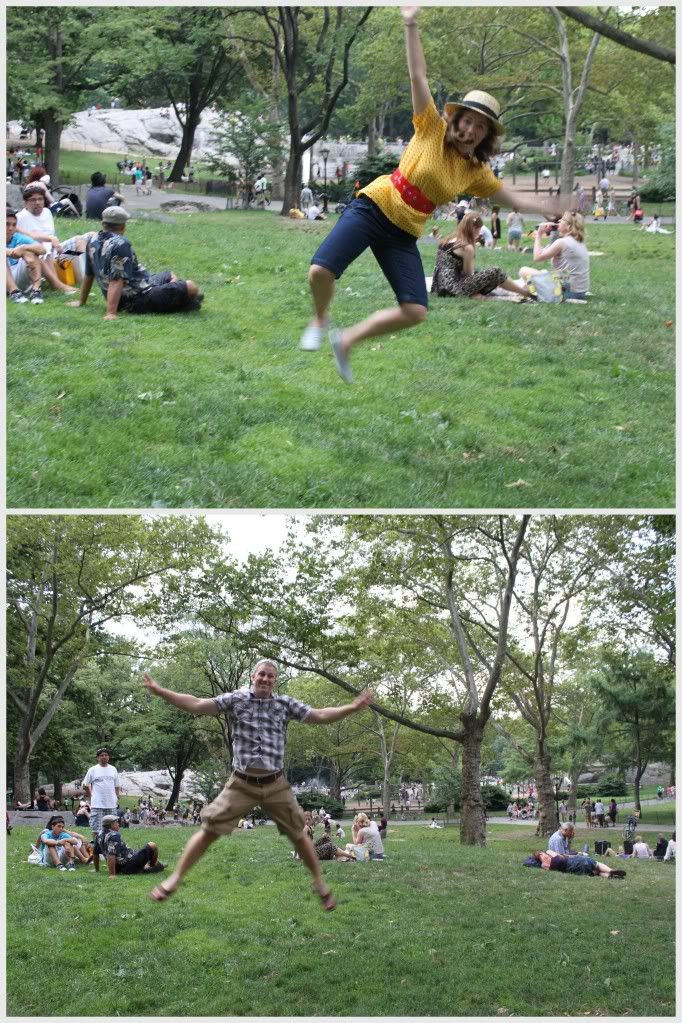 we next speed walked our way over 2-3 blocks and found the manhattan temple!
so fabulous that on this busy street you walk into this building where where it's peaceful and totally quiet.
i love my church :)
ps- i love having more pictures with casey and i both in them. but i HATE the pictures they actaully take! ha, seriously!
(left) they get tons of the sidewalk beneath our feet and cut off the building!
blah, oh well, at least they didn't run away with the camera and they did take a picture for us.
we then rushed our way over to a subway to go back down to the south part of the island to meet these girls!
these 2 lovelies are my freshmanyearlovers.
i love them so much.
miss janell (right) has been a nanny in NYC since the beginning of the year
and miss cortney (middle) is there for the summer in a dance internship bc she's a super good dancer :)
i could've talked for forever!
and bc we kept talking and talking
casey and i literally ran the next 10 blocks or more down to the ferry to catch the 7:30 one!
(they only come every half hour)
and with what casey was wanting to do after, we needed to be ON the 7:30 one!
we arrived at 7:28, sweaty faces and backs, gasping for air, to see that the ferry was late.
12 minutes late too!
all that running for nothin!
our next destination: a yummy ice cream place casey would go to on his mission
casey drove super fast, and after a few wrong turns the stupid GPS finally got us back to scranton, PA
it was about a 2 1/2 hour drive with no traffic and the right direction
we of course took almost 3.
the place closed at 11 and we were at their window at 10:45. woot woot!
casey got 4 scoops bc, why not!?
and i got 2 scoops bc why not!?
i'll tell you why not, those scoops are HUGE!!!
the picture might not represent it, but they were ginormous!
and delicious indeed.
(best cotton candy i've ever had)
(btw- once we arrived at this place i was zonked, i felt like i was sleep waling ordering my cone!)
i ended up only being able to eat like 1 of the scoops and casey a little over 2.
he saved them for breakfast :)