30 down, 10 TO GO!
that sounds absolutely insane, INSANE i tell you!
as i was getting ready to write this post thinkings how far along i'll be friday, i got so many butterflies.
30 is the beginning of the last stretch.
i can't believe it's getting to the end.
i have SO much to do though.
i feel like my house is still in shambles.
there's so many more house projects to get done.
baby projects to get done.
baby things to buy.
decisions to make with the birth etc.
and time to emotionally get ready (sure i've had 30 weeks to do all that but i'm a procrastinator you see... i've also only lived here for a little over a month and been out of town for 2 weeks of it...)
pregnancy really has been great.
my back is usually always sore.
my acne has not gone away.
i'm excited to be able to sleep on my stomach again.
getting out of the car is a little bit harder than usual now.
clothes still fit comfortably enough.
other than that, i feel very normal and i know i'm very fortunate to say thus.
this morning i finally realized the baby was having hiccups, HICCUPS!
bah!
hiccups have never seemed so cute in my life before, loved it, and casey was around to feel it which was presh too.
doctors appts have been going great.
i get to see that little boy on the ultrasound screen every time and it's just so cute.
that's my baby right there!
this last appt, my doctor was trying to get his arm to move a little so we could see his face, and you could see on the ultra sound her hand push on my belly and push his arm, it was really fun to see (he didn't move and we didn't get any good pictures, every time except that one he's been a star on screen:)
so here i was last week.
both some where in the 29 1/2 week range.
i thought i looked ginormo in the BYU shirt pic, so i had casey take some other ones a few days later but now i'm like, "eh, i'm pregnant and that WAS what i looked like that day, whatevs..."
i know i'm getting bigger but it's less noticeable to me now, it kinda just is this big ol' belly that well...just is, ha.
and since casey is always my model for me to get my lighting right, i thought i'd include his this time :)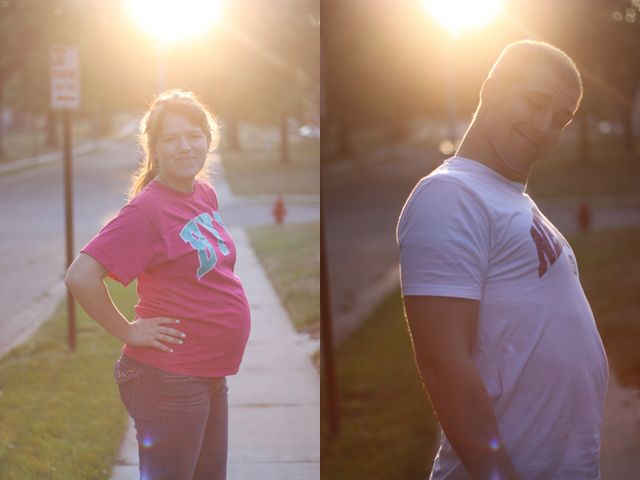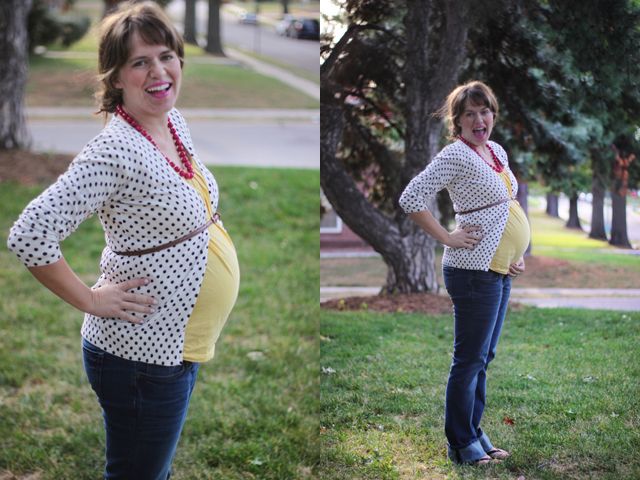 thus far my belly button isn't totally out yet but it's definitely not in, it's like flat with a little ridge on one side.
clothing wise, i still have quite a few non-matenity shirts i can wear.
i had already collected a few maternity shirts over the past few years when i saw crazy good sales.
i have quite a few dresses and skirts i still fit into nicely.
i borrowed a few shirts from my SILs while in AZ that i can now choose from.
and the jeans you see above, are my biggest maternity purchase thus far from H&M in AZ, very happy with them :)